My character of the year
XueUr-Xu 2013-10-10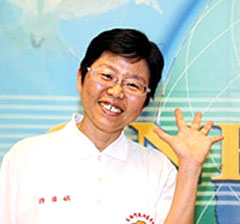 Before the end of 2012, Asian countries where Chinese characters are used tried to pick one character to represent the events of that year. China chose "dream" as character of the year. The Japanese people picked "gold" and Singaporean thought "color" was a good fit. However, Taiwanese people's widespread worry made "worry" the character of the year.
I was curious about which character would be chosen by brothers and sisters in Tai Ji Men Energy Family, so I asked a lot of them their personal characters of the year. The character with the most votes was "peace". The reason was that they live in peace and it has been a peaceful year for most of them. Some think that they've learned how to keep peace in mind. The other characters were "good" and "safe". The reason was that doing good and having a good heart leads to a quiet and safe life. Only one person chose "depressed" to represent one's worry about this country and the family.
Getting used to work on self-reflection at the end of the year, I chose "calm" as my personal character of the year 2012. It means that I settle my heart and avoid temptation to give in unnecessary online shopping and gourmet. I do my duty as a housewife to prepare healthy meals at home. Because of calmness, I live a life with gratefulness and stay away from being influenced by outside environment. A simple family life is filled with joy even though we don't have luxury goods and delicacies.
Brothers and sisters, me included, were affected by the negative energies from the daily news. However, thanks to Shifu's teaching, we learn to change ourselves instead of asking for changes in others. As a result, some brothers and sisters picked "turn" as the word of the year, hoping to turn a good thought within him/herself to change the world for the better. Some chose "change" as you have to change yourself when the bigger environment is not to be changed. Brothers and sisters would start with themselves by maintaining positive mood, helping others and bringing good energies to all.
Accepting a world as is does not mean sitting on the sidelines and stopping fighting for our own rights. What it means is that to accept things as they are and try to do whatever in our hand to make the world better instead of worrying which does not do any good. For example, we can lead a simple life when the economy is bad. That is what our Shifu has told us for several years. We are all world citizens living on the same planet. We need mother earth to provide us with everything we need to survive. Our incessant desires would put our mood at the mercy of material wealth and pose heavy burden for the earth. Environmental protection is the about thoughts and actions.
This year my son serves in the military and my daughter leaves home to attend a university. I become so called "empty nester". Looking back and ahead, I decide to step into the ranks of ceramists. Although I am a middle-aged woman, I still can make big progress. I think my character of the year 2013 is "change". Move forward bravely and positively.