Year of the Tiger, King of All Beasts
Tai Ji Men Qigong Academy Lunar New Year Celebration
2022-02-23
Congressman Ro Khanna, California Senator Dave Cortese, and more than 30 mayors and city councilmembers from 12 cities in the San Francisco bay area sent messages of blessing and appreciation to Tai Ji Men for its contribution to the community and the world.
Tai Ji Men Qigong Academy in San Jose celebrated the 2022 Lunar New Year with an event on Sunday, February 20 at 1:30 p.m.. This festivity bears the theme: "Year of the Tiger; King of All Beasts" in a podcast format.
(https://www.youtube.com/watch?v=LKQ3Kp_y_j8)
. For this event, friends and dignitaries from all over the world participated by sending their blessings in the form of pre-recorded video messages, greeting cards and letters to wish the world a happy Year of the Tiger. Their participation is important as one of the traditions of Lunar New Year is to get together with friends and family and, with abundant merrymaking and blessings, consolidate good thoughts and positive energy to start off the new year.
In the podcast, Dr. Hong, Tao-Tze, Zhang-men-ren (grandmaster) of Tai Ji Men mentioned, "This year is the Year of the Tiger. The tiger is often seen as a symbol of courage, and bravery and true love can help people overcome challenges. As we enter the third year of the COVID-19 pandemic, impacts have changed everyone's lives, bringing fear, chaos, and grief; however, the pandemic has also provided opportunities for ecological change on Earth. At a time when the physical contact between people is drastically reduced, the use of advanced technology creates another type of connection, as we interact online, and the Internet knows no borders, making those living far away seem to be as close to us as our neighbors, and allowing goodness to spread more widely and quickly. Today, we are meeting online to send our blessings and good thoughts to the world, making this Chinese New Year Gathering even more meaningful."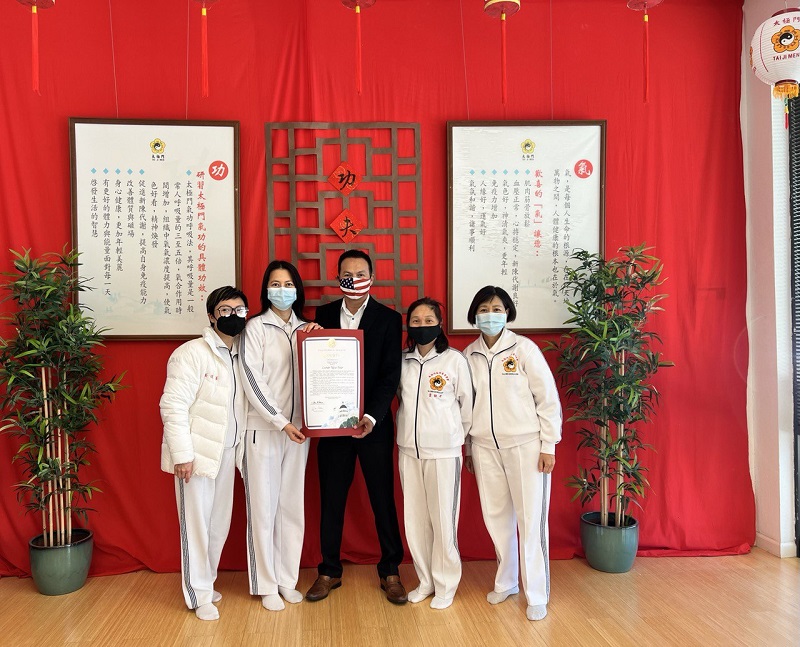 Mr. Phuong Nguyen, on behalf of California Senator Dave Cortese, came to Tai Ji Men San Jose academy before the event to present a Certificate of Commendation in recognition of the outstanding work by Tai Ji Men and to wish Tai Ji Men members a happy Lunar New Year.
Congressman Ro Khanna, California State Senator Dave Cortese, and more than 30 mayors and city council members from 12 cities around the bay area participated in this event in the form of video blessings and/or issuance of Letters of Commendation. They applauded Tai Ji Men Qigong Academy for their positive contributions to the community and their efforts to promote physical, mental, and spiritual health of world citizens. Mr. Phuong Nguyen, field representative to California State Senator Dave Cortese, personally presented a Certificate of Commendation to Tai Ji Men Qigong Academy in San Jose on behalf of Senator Cortese, to recognize the great work that the Academy has done and continues to do for the broader community.
In his video message, in addition to wishing everyone a happy Lunar New Year, San Jose Councilmember Raul Peralez wanted to "recognize the importance of the work that the Tai Ji Men Qigong Academy has continued to do for our community even in the midst of this pandemic. Tai Ji Men is a cultural organization that promotes a holistic approach to physical and mental health through the practice of martial arts and self-cultivation. The COVID-19 pandemic proved a challenge for various members of our community and new ways to find a balance to maintain social stability became extremely important. The work that Tai Ji Men has done continues to focus on offering peaceful and mindful opportunities for our community that helps to cultivate unity and compassion, and garner goodwill in the community through human relationships and promotion of conscience. Events such as this one help to bring our community together and make our city a better place for all of us."
Santa Clara City Mayor, Lisa Gillmor, in her video message said, "February 1st marks the beginning of the Lunar New Year. 2022 is the Year of the Tiger, which is celebrated by many Asian cultures throughout the world and here in Santa Clara. The tiger traditionally represents power, bravery and resilience; a perfect symbol of our spirit here in Santa Clara as we have navigated through these challenging times on a path to recovery. Lunar New Year is a time to start fresh and share in the hope of good things to come. I want to thank Tai Ji Men for its encouragement of physical and spiritual health in our community and beyond. During these uncertain times, we owe our gratitude to organizations like yours for providing nourishment, not only for the body, but also the mind and soul. We cannot thank you enough for the tremendous service you provide to the well-being of our community."
The keynote speaker for this Lunar New Year celebration event was Ruby Chang, a senior counselor and youth education expert. The topic of her talk was, "Tigers can be gentle, too - How to raise outstanding children without tiger parenting." Chang was constantly reminded by what her grandmaster said, "Whatever happens happens for the best." This piece of advice helped her accept things as they were. Then Chang proceeded to describe the advantages of learning to cultivate her mind at Tai Ji Men: "When you achieve physical and mental balance and attain peace of mind, it is not only easier to maintain a good parent-child relationship, but also easier to get along with others."
Chang believed that every family has its own way of parenting, as long as it works, there is no right or wrong. She thought that "balance is very important, which means yin and yang must be possessed at the same time. You must listen wholeheartedly and have empathy, but sometimes you must guide and act firmly . . . But whether it is lenient or strict, your mind must be in a state of balance so you can have peace of mind." She also believed that 2022 will be a year full of surprises, so the balance of body and mind is especially important. She wished everyone peace and smooth-sailing in the new year.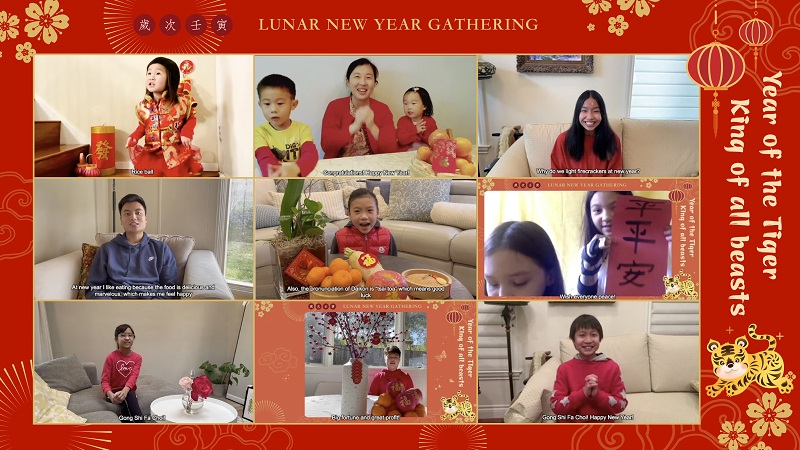 Children and young adults growing up in the United States shared their favorite things-to-do during the Lunar New Year and the symbolic meanings of various Lunar New Year traditions that bring good luck.
This podcast event also featured a group of children who shared their favorite things-to-do during Lunar New Year as Asian-Americans growing up in the United States. The youths talked about the different Lunar New Year traditions and customs, which were believed to bring good luck and prosperity for the new year. One of the highlights of the podcast event is a martial arts performance put on by the youths of Tai Ji Men Qigong Academy: The loud, deep sound of the traditional Chinese drums resounded as the heavenly officials blessed the world. These young disciples of Tai Ji Men presented the essence of ancient Chinese culture in an innovative way, injecting warm and joyful positive energy into the world. In addition, Tai Ji Men made a video on disease prevention and health protection, featuring "3 Don't, 5 Do's and 6 Tips" to effectively help people around the world maintain positive energy (referred to as "chi" in the Chinese culture) and protect themselves against COVID-19. Tai Ji Men hopes to pass on an abundance of blessings and good thoughts to the world through the Lunar New Year gathering.