Tai Ji Men Nei-Hu Academy 19th Anniversary
Leaders from Different Fields Making Good Wishes for a Better Future.
2022-09-27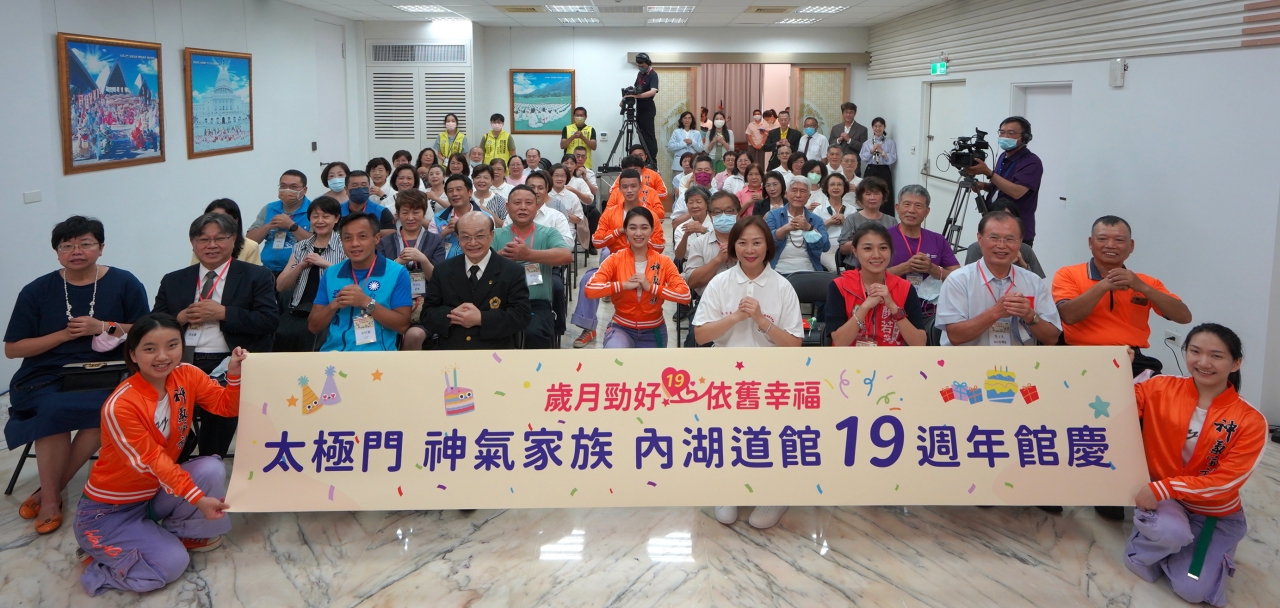 Tai Ji Men Dizis posing for a photo with guests to celebrate the 19th anniversary of Tai Ji Men Nei-Hu Academy.
Tai Ji Men Nei-Hu Academy celebrated its 19th anniversary on Sep.18, 2022, with the theme "The Years Are Good, Our Happiness Remains." They invited many guests from all walks of life to gather on the day of the celebration. The event was also live streaming on the Air Supply Station channel at the following weblink: https://youtu.be/ZJpnasdIRXs. In recent years, the spread of the epidemic has added many variables to the society. Through the celebration, Nei-Hu Academy hopes to pass on Tai Ji Men's philosophy of "love and peace" in order to gather more positive energy from the society.
The celebration started with the introduction of Tai Ji Men. Tai Ji Men is an ancient menpai of qigong and martial art. Zhang-men-ren(grandmaster), Dr. Hong Tao Tze, was highly praised as a "Modern Confucius" by Teburoro Tito, former President of the Republic of Kiribati and current Ambassador to the United Nations. Over the past 20 years, Dr. Hong Tao Tze has led his dizis to travel around the world as an NGO, sharing with the world the essence of qigong martial arts and promoting love and peace and the culture of conscience internationally through cultural exchanges. On the day of the 19th anniversary, nearly 40 dignitaries from all walks of life attended the event and more than 130 guests expressing their congratulations in different ways, such as video tapes, calligraphy works and flower baskets.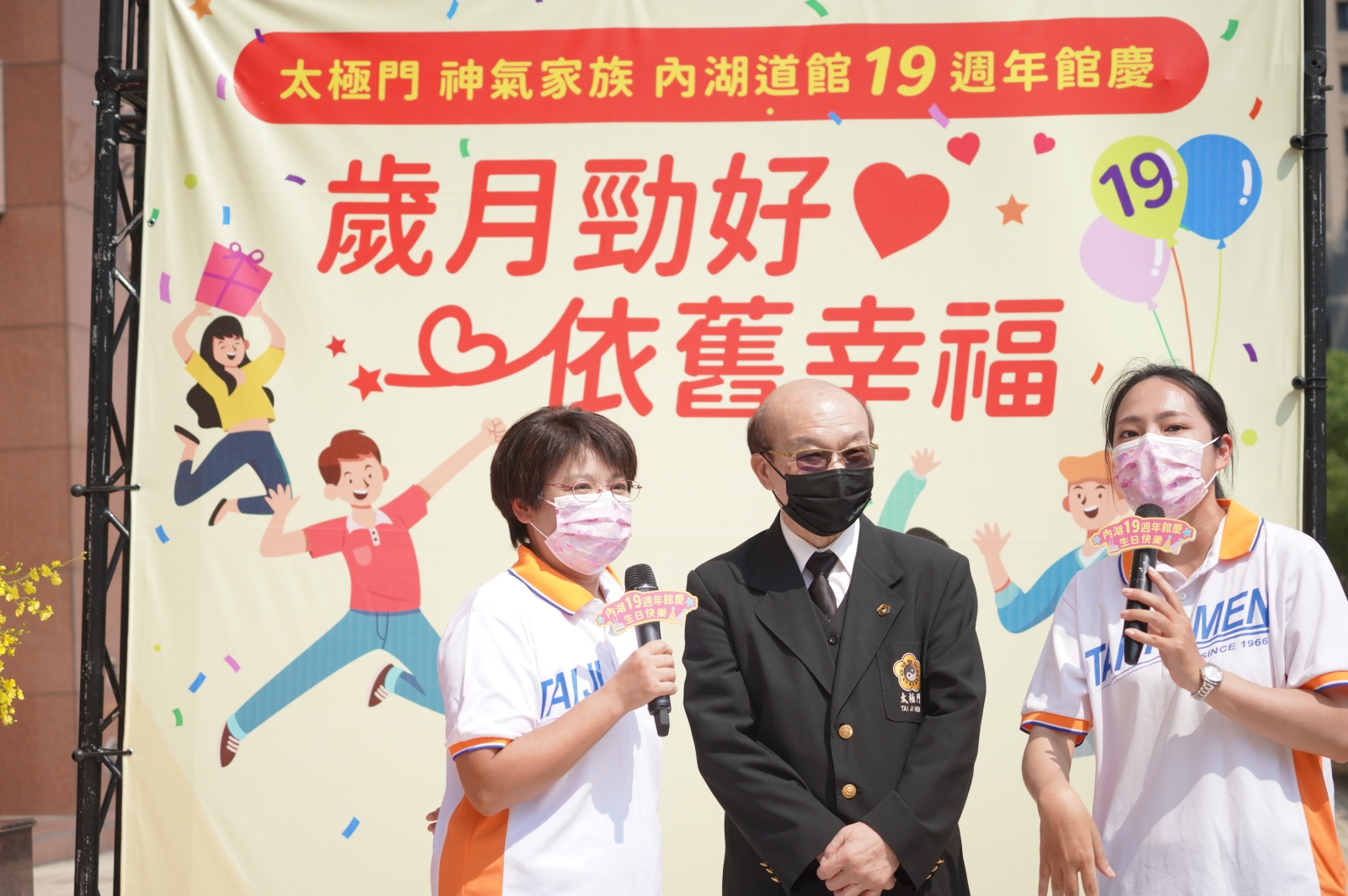 Wu Chin-chi (center), a 77-year-old Tai Ji Men dizi, is delighted that there is no sign of aging found in him. Tai Ji Men is a place of joy and happiness for him, which is his secret to keeping his body and mind young.
In addition to making a video recording, legislator Kao Chia-yu Kao herself also came to congratulate the event and thanked Tai Ji Men for promoting the power of goodness and kindness to all corners of the world, bringing about a cycle of goodness. Taipei City Councilor Lee Chien-chang said that global epidemics and wars have been ongoing in the past three years. He admired Dr. Hong Tao Tze, who has had foresight since a long time ago and constantly promoted love and peace and a culture of conscience for years. Taipei City Councilor Wu Shih-cheng said that Tai Ji Men, despite being aggrieved in Taiwan, never gives up. With Zhang-men-ren's great hindsight, they have spread love and peace through cultural diplomacy for decades, so that Taiwan can stand in the international arena and be seen by the world. Tai Ji Men is definitely a treasure of Taiwan, beyond doubt!
Taipei City Councilor Lee Ming-yin admired Tai Ji Men's efforts to promote love and peace, and he felt a lot of positive energy every time he visited it. He hopes that an atmosphere of love and peace would be there in the City Council and the Legislative Yuan.
Taipei City Councilor Que Mei-sha admired Dr. Hong, the Zhang-men-ren of Tai Ji Men, who continues to spread a lot of love to the world. She said the lucky bag she drew today was a reminder to exercise physically and smile more, which just meets her needs. Additionally, she will spread the power of love to all corners of Taipei.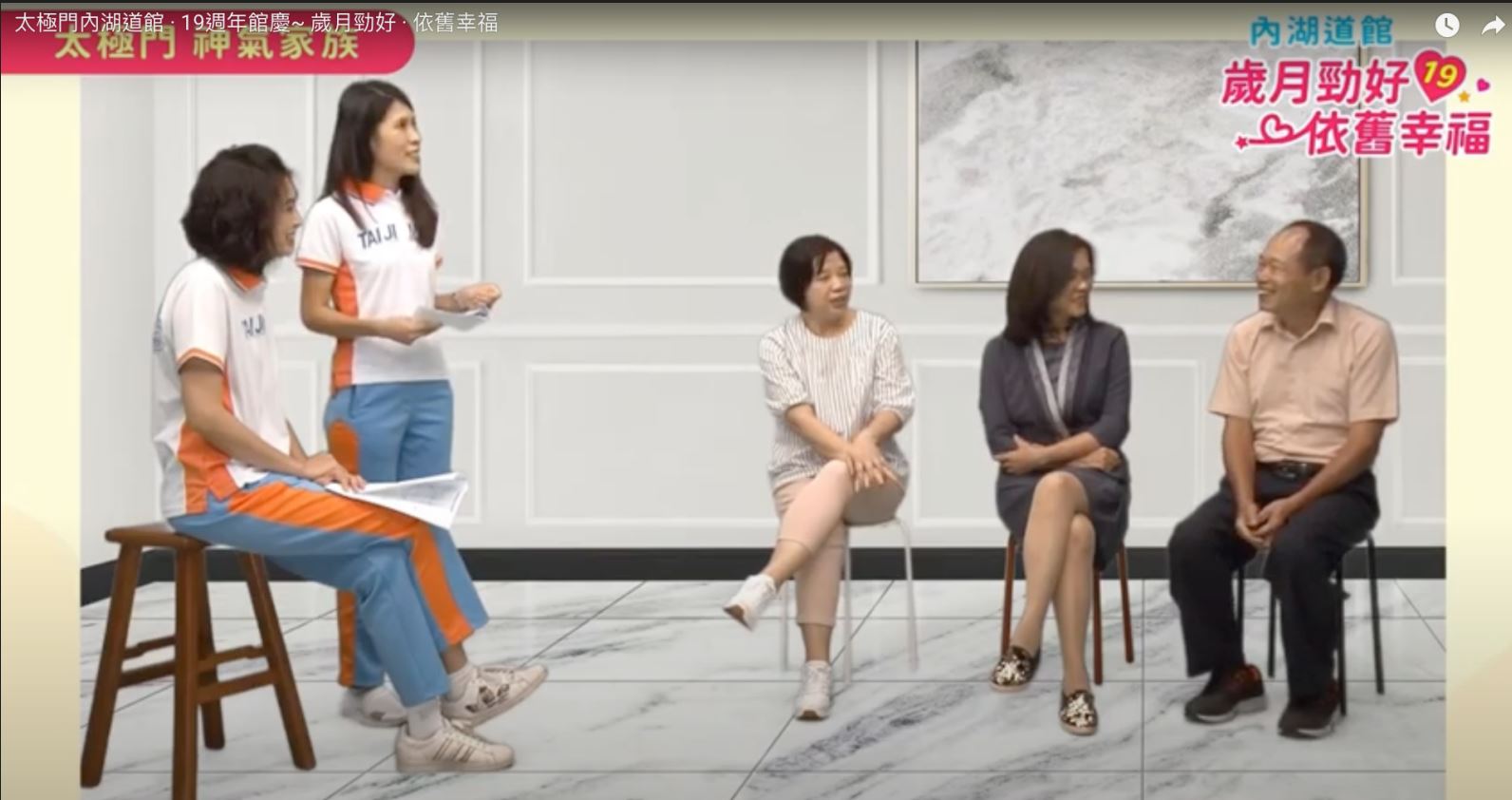 Three Tai Ji Men dizis, from right: Hsu Wen-chung, Jiang Xiu-san, and Liu Hui-ling, sharing the wisdom they have learned to overcome setbacks and low tides in their lives.
There were many honored guests and representatives also participating in the celebration, including Chang Woon-lin, the spokesperson for Candidate for Taipei City Mayor, Huang Shan-shan, Lu Wen-ching, the Office Director for Candidate Taipei City Mayor, Chiang Wan-an, Taipei City Councilor Chang Mao-nan, Taipei City Councilor You Shu-hui's representative, the candidates for Taipei City Councilor Lin Jie-li, Chang Wen-jie, Lin Xing-er's representative, and former New Taipei City Councilor Liao Cheng-liang.
Chen Yu-cheng, a candidate for Taipei City Council, shared that during his 24 years in the Huang Shan-shan's team, he has learned that God will return blessings if he puts his heart and soul into helping those in need every day, just like Tai Ji Men dizis who practice qigong and pass on positive energy to those in need in society. He pointed out that every time he comes to Tai Ji Men, he feels that the dirty water in his heart is slowly being precipitated and he can see the purest part of his heart again.
Candidate for Taipei City Council, Yen Ruo-fang, said that the positive energy spread by Energy Boys & Girls helped her to wash away her fatigue. She found Tai Ji Men dizi are all young and handsome and that they do good and spread love energy not only for themselves but also for others. She truly appreciated that Tai Ji Men also went to the United Nations for cultural diplomacy and let the world see Taiwan.
Lin Chen-yu, a candidate for Taipei City Council, has been following her father's charity work of giving rice in winter for 20 years since she was a child. She believes that politics is implemented in daily life. Also, after playing the fun games, she mentioned that people should pluck up their courage and break through difficulties. With encouragement, our positive energy will rise and good things will happen afterward.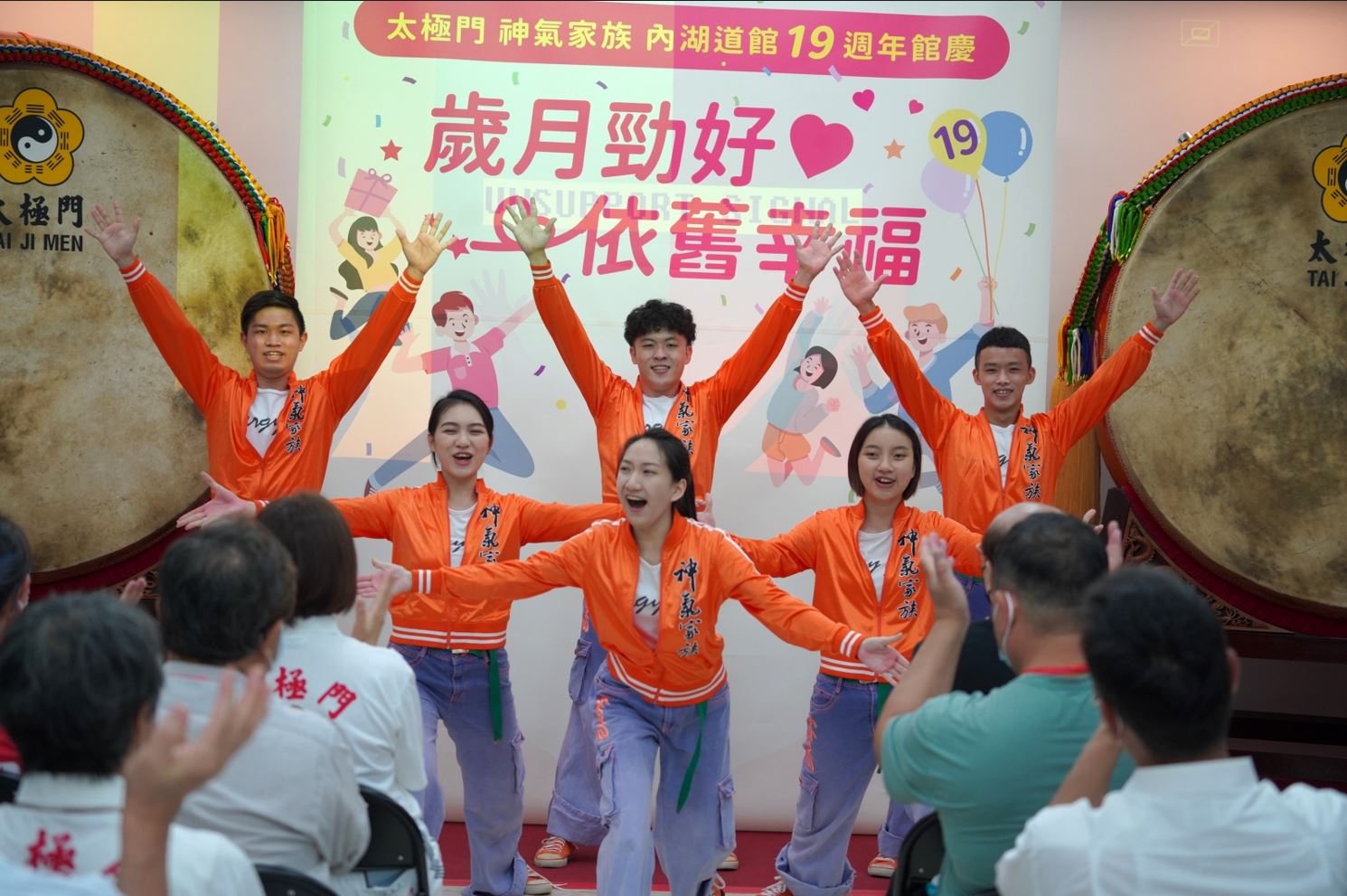 The 6 Energy Boys & Girls singing "Happiness is Everywhere" and also dancing to bring joy and happiness to all.
Candidate for Taipei City Council Wang Xiao-wei said, "To be righteous, to conduct ourselves responsibly, to be true, not to be hypocritical and to be consistent in words and deeds. These are positive energy. To correct one's behavior is to practice.
Professor Chang Chia-lin of Tamkang University, who has been working with Tai Ji Men for three years to fight for human rights in the legal taxation, came to Nei-Hu Academy for the first time and was deeply impressed with the smiling faces of all the Tai Ji Men dizis. He complimented the young dizis on their vigor and high spirits, each of whom is as upright as a pine tree. It is apparent that Tai Ji Men is doing a great job in passing on their cultural legacy.
Chinese Taipei Wushu Federation President, Huang Kun-Chung, pointed out that Tai Ji Men is an old menpai in the martial arts world and has created many cultural miracles. He was pleased to see so many young generations willing to carry on the baton and strive to promote the culture and philosophy of goodness. He said a country has no roots without culture and that only by continuously passing on good culture will the country have hope. He proposed the government grasp and preserve the positive culture of goodness in Taiwan. He also expressed his admiration for Tai Ji Men's perseverance and persistence.
Candidate for Taipei City Mayor Huang Shan-shan made a video to share with Tai Ji Men her wishes. She hopes that more academies will be established in the future not only for the citizens of Taipei but also for more people throughout Taiwan.
Candidate for Taipei City Mayor Chiang Wan-an expressed through a video that he is aware of Tai Ji Men's participation in many UN NGO's activities in promoting love and peace and their great achievements.
Legislator Kao Ka-yu, who has been deeply working hard for Neihu district for a long time, prefaced the event with a video recording in which she said that the local residents in Neihu have long felt the kindness and vitality of Tai Ji Men. She also participated in important events such as the annual celebration and could feel the spirit of "insisting on truths" and "conscience-based" of Tai Ji Men. She will continue to serve the public by insisting on doing things right with conscience in politics.
At the age of 77, Wu Chin-chi, a Tai Ji Men dizi who has been practicing for 29 years, said he has spent 40 percent of his life in Tai Ji Men and that Tai Ji Men is his home. In this distinguished family, there are brothers and sisters of all ages, from newborn babies to those over 100 years old. He stays young physically and mentally, because he spends a lot of time with youths. To all the dizis, Tai Ji Men is a land of happiness.
Since the outbreak of the covid-19 epidemic, human communication has been restricted, and the global environment is gradually deteriorating, making people sad and miserable. In response to the theme of the celebration, "The Years Are Good, Our Happiness Remains," Wu Chin-chi added that Tai Ji Men, during the epidemic, not only complied with the government's epidemic prevention regulations but also made good use of modern technology to produce many positive videos and online forums to spread warm and joyful energy to the world. With the recent epidemic prevention regulations, people's lifestyles are gradually returning to normal. In the celebration of the 19th anniversary of Nei-Hu Academy, Tai Ji Men dizis continue the positive energy they have learned from Dr. Hong, warming the hearts of the people who are getting colder and colder. It is believed that good thoughts can make a difference and turn the world into a better one.
The Covid-19 pandemic has resulted in over 600 million confirmed cases worldwide. Recently, foreign media reported that about 4 million workers in the US are still unable to return to their workplaces due to the aftermath of "long covid", causing an estimated economic loss of over US$5 trillion. Shi-Ching Li, a rheumatologist and a Tai Ji Men dizi, shared some knowledge and tips for dealing with "long covid" with his professional knowledge. Furthermore, he suggested that we face it with a positive mindset, the best medicine of all.
The other three dizis, who have practiced qiqong in Tai Ji Men for many years, also shared how they practice kung fu in the face of tough situations and life challenges. Liu Hui-ling, a middle-aged woman entering the second stage of her life, faced unemployment at age 50. She confessed that she could not make it every single day after she landed on another job. The idea of quitting the job arose in her mind from time to time. She said such internal panic always made her unable to think positively. After meditation practice, she calm herself down and encouraged herself to look on the bright side. She realized that she would gradually learn something if she tried. As a result, it would not be difficult if she knew how to cope with challenges at work. She successfully transformed her anxiety into sheer determination to overcome challenges and received compliments from her younger colleagues.
Xu Wen-zhong, a caregiver who is always smiling, can hardly be seen to have gone through a failure in marriage, which resulted in his hateful, low self-esteem personality. After joining Tai Ji Men, he said the biggest change was to let go of his past. He experienced the fragility of life in his work. To take care of a visually impaired person, he closed his eyes and experienced the person's hardships in an authentic context. He also brings positive energy to the person he is looking after, to stabilize the person's heart.
Funeral business manager Jiang Xiu-shan recalled her past frustrations in the workplace, often demanding high standards. Even though she got a brilliant performance, she could not get any applause from her colleagues and team members on stage. She said that she learned from everyone in Tai Ji Men to be genuine and to nourish a heart of joy. With her practice and reflections, she did improve her relations with colleagues. Now she smiles quite often and is physically and mentally healthier. Her colleagues even wondered what care products she had used
Through their performances, the Energy Family shared the positive energy of happiness and joy to all the guests. The six Energy Boys and Girls warmed up the atmosphere with their energetic song "Happiness is everywhere" in the beginning. Then the song "A Prayer for Peace" conveyed the message of love to heal the wounds in our heart and reminded the conscientious aspiration for peace, creating a warm and peaceful atmosphere for all on the occasion.
The world is facing unpredictable situations. On October 16, Tai Ji Men will hold a global prayer ceremony for love and peace, titled "Conscience lights up hope to embark the journey", at the National Taiwan University Gymnasium. Leaders and friends from all walks of life are sincerely welcomed to participate in this significant event and to take part in the campaign of "Global Prayer with Words of Conscience" by recording and uploading a one-minute prayer and a one-minute video of silence in the hope of uniting good thoughts and efforts of all people to pray for Taiwan and the world, wishing for peace on earth, prosperity for all creatures, sustainability for the world, and peace for all.