What the Award "Employee of the Year 2018-19" Means to Me
Jenny Hsiung, School Secretary 2019-10-27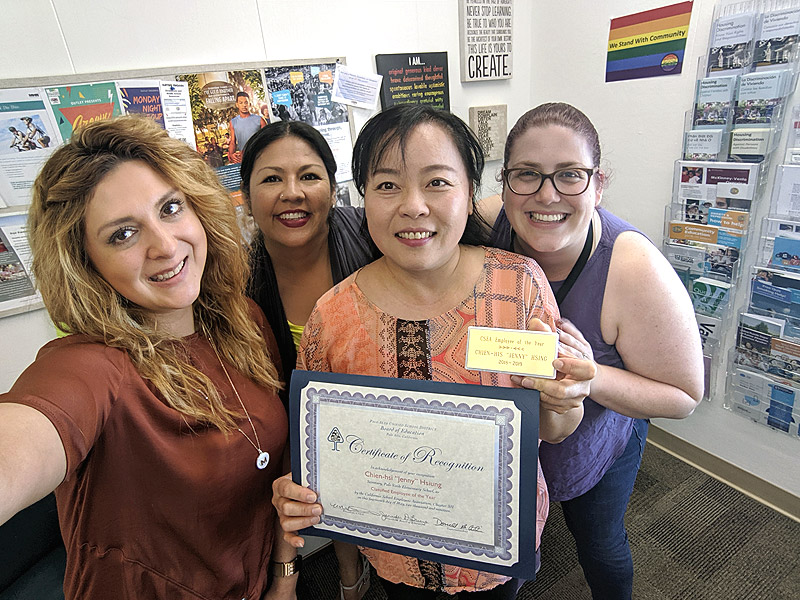 Jenny Hsiung (second from right), elected Employee of the Year 2018-19 of PAUSD, celebrates with colleagues.
I was elected out of more than 200 nominees the Classified Employee of 2018-19 of Palo Alto Unified School District (PAUSD) in California. I would like to dedicate the honor to Shifu.
I used to be a stay-at-home mother until my husband, who is also a Tai Ji Men dizi (student), was laid off from work in 2008, when I had to start to look for a job. Since my first language is Chinese, to get a job in an English-speaking community was scary for me at first, especially when both verbal and written communication skills are strongly required. Then I remembered that Shifu told me to be brave, and he also said that all his dizi are great and that we should be confident in ourselves. So I went ahead and applied for a job in the school district where my two children were enrolled in. And I got the job! Knowing there is still room to improve my language skills, I diligently read news in English on CNN or Reuterchannel. I also volunteered at Tai Ji Men, translating for others, which helped improve my language skills by far. As a result, I have been promoted continuously ever since I was hired. In 2012, I became the first Mandarin-speaking office staff member in PAUSD schools, and in 2015 I became the first main secretary with Mandarin-speaking background at the elementary level.
I attribute all these to Shifu's teaching, "Always be prepared to go on the stage." Later, I was able to use my language skills to serve an even higher purpose by following Shifu's footprints and accompanying other Tai Ji Men sisters and brothers around the world to share love and peace with world leaders.
Shifu teaches us to promote love and peace throughout the world by sharing the essence of our culture. And that is what I have been doing at work: fostering a friendly environment by sharing my culture and respecting the cultures of other ethnic groups. Being the main secretary at school, I play the key role of bridging communications among the principal, the school staff, the community, and the district. Therefore, knowing how to communicate effectively is critical in bringing the whole community together. Luckily, I have Shifu, who constantly reminds us to learn to speak appropriately. Working in such a place where various cultures come together, inevitably I come across people of different personalities daily; some easy-going, others challenging and demanding. By using the techniques that Shifu taught me, I know not to judge anyone and try to treat everyone with love and respect. As a result, I have made many dear friends at work. I have also learned from Shifu to treat people with my true heart, and I think that's the reason why many of my coworkers like to confide in me. For those who come close to my heart, I even bring them with me to Tai Ji Men to learn Shifu's wisdom.
I was not happy most of my life; other people's successes made me anxious about my own achievement; I'd compare myself with others all the time; I only knew to look outwardly at others and forgot to inspect and reflect upon myself. When I had come to realize the source of my unhappiness all came from the material world, I finally was able to stop pursuing what
seemingly constitutes the "real" world and start to fulfill my real self internally. I am a happy person now thanks to Shifu's teaching.