Exploring
Valerie Cheng, Student 2019-11-09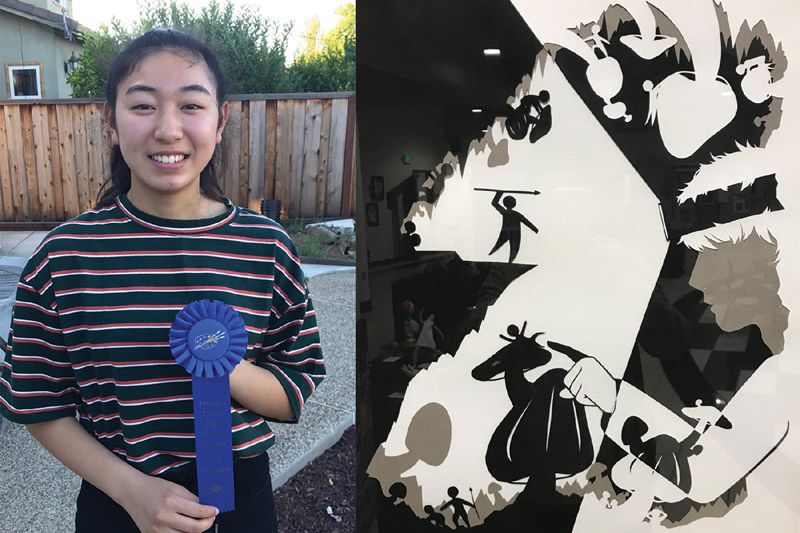 Valerie Cheng's artwork, Exploring, won FUHSD Principal Award.
At the beginning of the second semester in high school, my art teacher decided to assign us a cutting paper project. He told us that we could make anything, as long as we used more than two colors and no more than four. I thought it wouldn't be that hard at first, but little did I know it would take me such a long time to think of an idea. Since it was a cutting paper project, we were limited to adding on layers and layers. It was also very different from our usual techniques. Instead of being able to incorporate various colors, we could only use solid colors. That meant we had to somehow place the colors in a more impactful way. At that point, I had no idea what to create. I did make a few sketches, but I felt that I could do more. I probably made five different drafts before I finally found the perfect idea.
One day, my mom told me about Shifu's words of wisdom, which were about the light of wisdom, and I thought about how I could interpret Shifu's words with my art piece. His words of wisdom reminded me of how people tend to look at things from only one perspective rather than from multiple ones. It shows how it is someone's decision to not look at both sides of an argument. Looking at the yin yang symbol, I decided to use black and white. I also thought about how I could use gray for the main color. Since we need both yin and yang, why not use gray? White and black, mixed together, create gray. It shows how opposites may be interchanged. Even though people like to look at the bright side, they still need to face the dark since leaning towards one side may result in a biased opinion. That's why we need both white and black.
I finished my art piece; afterwards, I was surprised when my art teacher told me that I had won an award. Apparently, he had entered my art piece in the FUHSD art showcase. He then showed me the picture of my art piece at that showcase and proceeded to hand me a blue ribbon that also came with my art's title. The title was basically my name and the school I go to. On the title, there was an extra label that said I had gotten the FUHSD (Fremont Union High School District) Principal Award. I was kind of shocked since I didn't think that the art I made was my best. However, it was an interesting and fulfilling experience overall.