Tai Ji Men Speaks the Truth President, have you felt our pain?
2016-12-29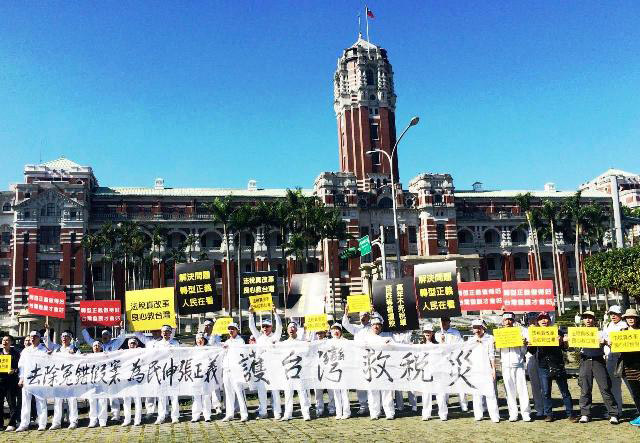 Appeal to the President to hear the people's pain
15 civil groups including Tai Ji Men and the Alliances of Tax & Law Reform initiated the activity of "Conscience-driven fundamental reform of judicial and tax system to help Taiwan" on December 18th, and 19th. The event took placed on the Ketagalan Boulevard, and attracted more then 10, 000 participants, including many Tai Ji Men dizis arriving from different parts of Taiwan with their families. Some of them even came all the way from overseas to attend this event as December 19th, 2016 marked the 20th year anniversary of Tai Ji Men unjust case, an unforgettable pain and suffering for all the Tai Ji Men dizis.
Therefore, on the day of 20th Anniversary, Tai Ji Men dizis separated in 7 groups to appeal to the President, Executive Yuan, Control Yuan, Judicial Yuan, Examination Yuan, and the Ministry of Finance with a call for "No More National Violence, Withdrawing the unlawful Tax Bill, and Reversing the Unjust Case!" These appealing activates have continued spreading out to all the local governments in different cities. It is to believe that with the awakening of all citizens, the respect of human rights and lawful practices by governments can truly be emphasized.
However, when they appealed to the Ministry of Finance, the Director-General of Taxation Administration, Ms. Lee, Ching-Hua replied that Taxation wont completely follow the decision of Justice. We may take them into consideration if there is investigation of related evidences of bills. This attitude of arrogance from the Ministry of Finance that completely ignores National Justice is infuriating!
Justice Returned to Tai Ji Men After Three Judicial Rulings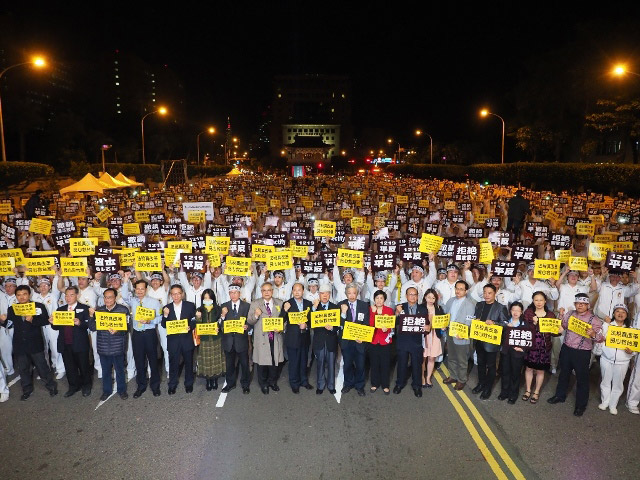 19th December marks the 20th anniversary of Tai Ji Men's injustice. Scholars and experts who stand with Tai Ji Men over the years, urged the government to follow rule of law, respect human rights, and revoke illegal tax bills.
Delayed justice and justice denied. Tai Ji Men's tax injustice is often referred to by scholars as the 228 Incident of Taxation. It resulted from political suppression. After large-scale investigation by then-prosecutor Kuan-jen Ho on 19th December 1996, the judicial system returned justice to Tai Ji Men after 10 years and 7 months. Tai Ji Men was clear of all charges, and the gift to "shifu" (master) of Tai Ji Men from all its dizi (disciples) were no-taxable in accordance with law. In 2009, the wrongly persecuted shifu and defendants were awarded national compensation.
Control Yuan Determined Major Violations by the National Taxation Bureau
In 2002, the Control Yuan actively investigated into the case and determined eight major violations by then prosecutor Kuan-jen Ho. The Control Yuan also determined that the basis for taxation was in conflict with the rule of evidence. Prosecutor Kuan-jen Ho also confessed that he didn't follow due process in the investigation process. Tai Ji Men's case was even listed in Control Yuan's 3rd General Report on the Work of Human Rights Protection of the Control Yuan. In 2009, the Control Yuan determined that the National Taxation Bureau failed in its duty to diligently investigate and provide proper evidence; there were seven major violations of due diligence in terms of the tax agency's responsibilities. Nonethelss, the National Taxation Bureau ignored Control Yuan's correction and continued to issue illegal tax bills, and prosecutor Kuan-Jen Ho remained unpunished!
250 Legislative Members Call for Rule of Law
Even though Tai Ji Men has been cleared of all wrongful accusations, the illegal tax bills continue to be issued. For 20 years, the dizi of Tai Ji Men suffered bullying as the National Taxation Bureau superceded the Office of the President and five Main Governing Authorities, as well as supervision of the Parliament. There had been over 250 legislative members supporting Tai Ji Men's case since the first cross-ministerial meeting in 1999. Even though the conclusion was to revoke Tai Ji Men's unjust case and illegal tax bills, the National Taxation Bureau maintained its arrogance and destroyed the country's constitutional system. This brings complete distrust for the country's public justice.
After 10 years and 7 months, the courts found Tai Ji Men innocent on all charges. 14 judges such as Yao-yuen Wen, Tzi-jung Chao, Hui-sheng Chen all returned justice to Tai Ji Men after 48 court dates and 9570 minutes of court time. Justice has prevailed.
Former Supreme Court justice and speaker Yao-yuan Wen, who was also the second trial judge of Tai Ji Men's case, said that Tai Ji Men's case was trialed through a collegial panel of judges, and ultimately all determined innocence for Tai Ji Men. Even the section that concerned violation of Tax Collection Act were investigated properly to determine the nature of the gift. All determined that the gift was indeed a gift, and not tuition fees as claimed by the National Taxation Bureau. At that period, there were four major religious prosecution cases, and Tai Ji Men was the only one that the prosecutor's appeal was quickly dismissed.
Judge Wen stated that the court's judgment had clearly stated that the prosecution's statement was clearly non-adoptable, nonetheless, the National Taxation Bureau ignored the court's ruling, and continued to use the prosecutor's prosecution as basis for taxation.
Appeal Committee and 17 Revocation of Illegal Tax Bills
Four courts ruled to revoke the illegal tax bills respectively: Taipei High Administrative Court in September 2005; Supreme Court in August 2009; Taipei High Administrative Court in March 2015; and Supreme Court in July 2015. This is the 17th time that the Appeal Committee of the Ministry of Finance and the administrative courts revoked the National Taxation Bureau's illegal tax bills.
In accordance with precedent number 13 of the Executive Yuan in 1940, and precedent number 18 of the Executive Yuan in 1945, the administrative agencies must proceed according to criminal rulings and facts. Since the criminal rulings had already determined the nature of monetary giving as gift, and the accessories as non-profit, the National Taxation Bureau should revoke all its illegal tax bills. But since 1997, the National Taxation Bureau continued to issue such illegal bills with no due process; to exacerbate such situation, they forge documents and hide evidences, and file appeals. Such illegal acts and improper behaviors by government officials seriously degraded Taiwan's administrative capacities, and waste judicial and civil resources.
Precedent for Tax Reform and Transformational Justice
From the Constitutional perspective, even a five-grader knows the separation of power by the five major authorities, as well as their respective responsibilities. Any trespassing of ordained duties constitutes a breach of law, and a degradation of national sovereignty. Nonetheless, in the case of Tai Ji Men, the National Taxation Bureau supercedes all government authorities and the Constitution, and endangers the country and people, while violating human rights and wasting public resources. Such act should be severely rebuked.
The journey of Tai Ji Men's tax injustice is clearly detailed in the three books: Truth, Revelation and End it from Where it Started, published by Grand Justice Publishing Ltd. At the book release event, Tai Ji Men dizi were present to tell the true story of cross-generational injustice, and they encouraged everyone to read the three books, for the purposes of awakening public conscious, learn about taxpayer's human rights, and protect one's own rights. Further, 30 experts and scholars jointly recommended the three books, with the hope of exposing Taiwan's dark side in taxation and providing important suggestions on improving Taiwan's taxpayer's human rights. The three books serve as important reference materials to Taiwan's tax system and human rights, as well as tax reform.