Tai Ji Men Qigong Academy Hosts 2018 Chinese New Year Gathering
Celebrating Lunar New Year and Spreading Love and Warmth
2018-03-12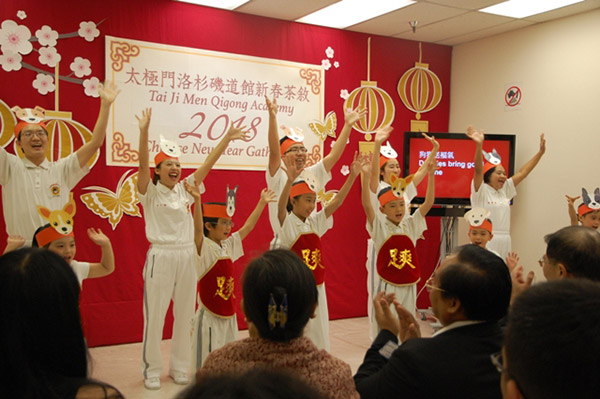 Tai Ji Men Qigong Academy in Los Angeles hosted a joyful and lively Chinese New Year gathering on March 4, 2018, with over 150 people from different backgrounds in attendance. The guests enjoyed a variety of traditional Chinese New Year activities, including drinking a cup of kung fu tea, writing Chinese spring couplets, spinning a wheel of fortune, picking a red envelope, having Chinese New Year snacks, and so on. Tai Ji Men members presented an energetic and joyful dance called "Doggies Bring Good Fortune," which galvanized the attendees, and all of them cheerfully shouted out, "Wang! Wang!" which represents both dog barks and prosperity in Chinese. Additionally, a group of Tai Ji Men members, including children aged between three and ten, sang "Love and Peace Song." The children's pure voice and innocent smiles warmed the audience members' hearts; many of them responded, "So cute! So adorable!"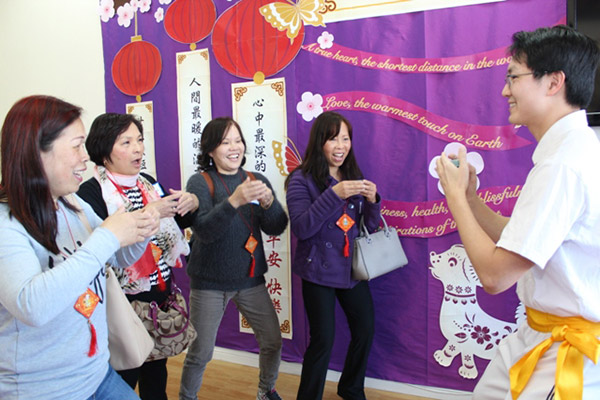 On the occasion to cheer the beginning of the Year of the Dog and receive bountiful blessings, a representative of Tai Ji Men members read the welcome remarks of Dr. Hong, Tao-Tze, the Zhang-men-ren (grandmaster) of Tai Ji Men: "What kind of life you wish to lead depends on the present moment; each kind thought arising now provides an opportunity to improve your destiny. . . . Let's all hope that people will treat one another with sincerity and kindness and start with improving themselves and then inspire those around them to be better persons as well. Let's bring warmth and love to our families, workplaces, and lives, continuing the vibrant energy of spring and creating more positive energy to calm people's hearts. Such good energy will eventually benefit ourselves and become the wellspring of happiness."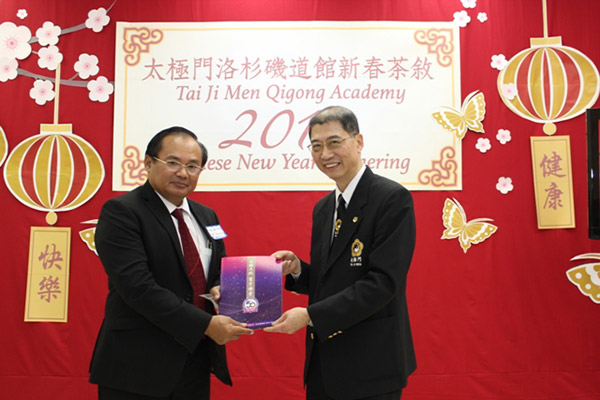 Many influential leaders attended the event, including Consul General of the Republic of the Union of Myanmar Aung Soe Win and his wife; Angie Shaw, representative of California State Senator Josh Newman; Andrew Rodriguez, councilmember of Walnut; Nelson Huang, chair of APAPA-Southern California Regional Headquarters, and his wife; Mary Ng, vice president of the Chinese American Association of Walnut; Christine Chu, general manager of ETTV America; Xiao Cui Liu, president of International Martial Arts Federation; Eduardo Valverde, director of Alma Tica Folk-Dance Group; Muriel Tsai, president of Walnut Chinese Language Center; Soledad King, president of Arcadia High School PTSA; etc.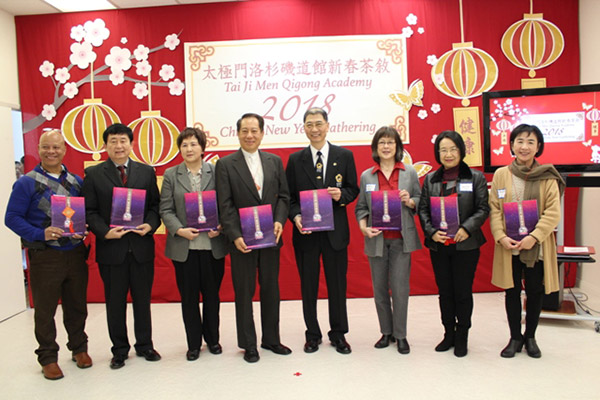 Tai Ji Men received many certificates of recognition from leaders and government agencies for its efforts to bring the community together in celebration of peace, culture, and diversity, including Consul General of the Republic of the Union of Myanmar Aung Soe Win; California Lieutenant Governor Gavin Newsom; California State Senator Josh Newman; California State Senator Ed Hernandez; Los Angeles County Supervisor Hilda Solis; California State Assemblyman Phillip Chen; Los Angeles Mayor Eric Garcetti; Mayor Cynthia Sternquist of Temple City; Mayor Peter Amundson of Arcadia; Mayor Paul Eaton of Montclair; the mayors and city councils of Walnut, Alhambra, and San Gabriel; and so on.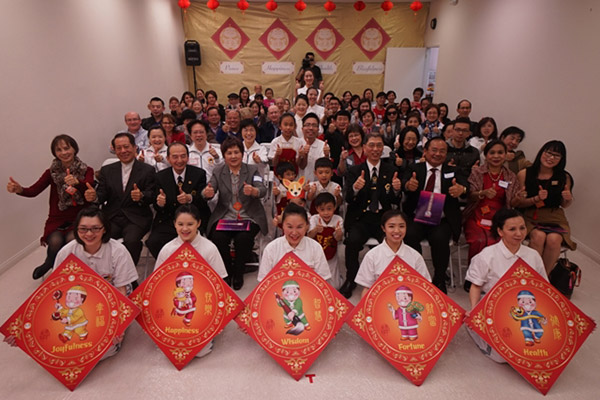 In addition to cultural performances, the event also featured a talk about healthy living. The speaker Yu-Yang Chiang is a doctor of traditional Chinese medicine and the fifth generation in his family to carry on the family lineage in the field. He especially flew from Taiwan to share with the attendees how to cultivate good energy and lead a healthy, happy, and complete life. Dr. Chiang stated, "The heart is the root. Qi (energy) is the medium. When you feel calm and relaxed, qi flows smoothly in your body. According to traditional Chinese medicine, pain is often caused by the stagnation of qi and/or blood. People can stay healthy when their circulation of blood and qi is smooth. The mere relaxation of muscles is not enough for one to stay healthy. Tai Ji Men Qigong emphasizes the importance of being calm, peaceful, and relaxed."
Consul General of the Republic of the Union of Myanmar Aung Soe Win and his wife stayed for the entire event. Consul General Aung Soe Win stated that the academy's name is very interesting to him because in Myanmar there is a big Chinese community. He said, "Everywhere we go, we can see Chinese people practicing qigong, so I am very interested to come here and see the event because my predecessor also last year attended the occasion. What I can witness here is all the people are lively and happy. I believe they know the real value of life." He also mentioned that the academy promotes the idea of love and inspires people to create a better world for all. He believes that to know others' cultures and customs and to understand other people are very important. He said that he was touched by the innocent children's performance; he believes that it is essential to have the younger generation experience culture through participating in cultural activities.
The event ended on a cheerful note, and many guests expressed that they had received plenty of good energy and positivity at this lively and warm gathering. They said celebrating Lunar New Year at Tai Ji Men was a memorable experience as they felt happy and learned a lot of health tips. They hoped to celebrate Chinese New Year at the academy again next year.