Endorsement of "The Declaration of International Day of Conscience" at Tai Ji Men Lunar New Year Celebration
Andrew Kuo/Amy Chen 2019-03-04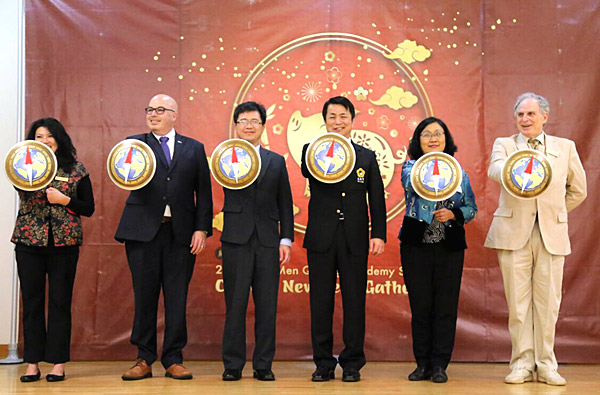 The "Conscience Compass" represents how conscience is always pointing one in the right direction; one is encouraged to follow one's conscience and make morally correct choices.
A riveting performance celebrating Lunar New Year was the highlight of the weekend at Quinlan Community Center in Cupertino. On Sunday, February 24th Tai Ji Men Qigong Academy, an organization devoted to promoting worldwide love and peace, celebrated Lunar New Year and garnered support for the endorsement campaign for the Declaration of International Day of Conscience in the bay area. This festive event boasted nearly 300 audience members including distinguished guests Cupertino Vice Mayor Liang-Fang Chao, Sunnyvale Council Member Michael Goldman, San Jose Council Member Johnny Khamis, Palo Alto Council Member Lydia Kou, Fremont Council Member Teresa Kang and Overseas Community Affairs Council of the Republic of China (Taiwan) Director Roy Yen.
Guests were greeted at the main entrance with bright, colorful posters which symbolized happiness and good fortune. To create festivity for the celebration, parents found themselves exploring fascinating Chinese culture with their kids through games and crafts. Activities included Chinese calligraphy, drawing of red envelopes containing wisdom and fortune slips, matching games, lucky ring toss, and making of paper pig lanterns and clay crafts.
The warm and welcoming Tai Ji Men members accented the ambiance of the scene, a perfect segue into the performances and speeches of the main event. The two-hour program celebrating the arrival of the Year of the Pig was filled with lively cultural performances. The energetic pig dance and traditional lion performance accompanied by drums and cymbals spread positive energy.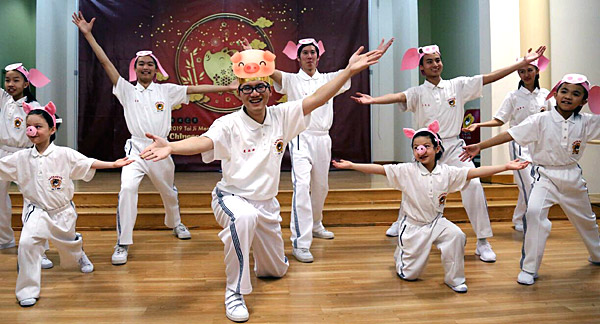 Tai Ji Men members present the Pig dance, welcoming the Year of the Pig with positive energy.
Jason Lu, the representative of Tai Ji Men Qigong Academy in San Jose, shared with the audience a message from Tai Ji Men's Zhang-men-ren (grandmaster) Dr. Hong, Tao-Tze. Dr. Hong stressed the importance of the heart as "the heart is fundamental to all thoughts and behavior. Conscience can bring goodness and beauty to the world and guide us onto an illuminated path. Everyone is a leader of conscience and is encouraged to follow his or her conscience, be a loving person, and resolve conflicts with wisdom. Let us work together to make this world a better place. We can garner the loving energy from individuals, develop universal love for all, and help our loved ones obtain the five treasures of life -- health, wealth, wisdom, happiness, and joy. Conscience is the key that unlocks happiness. All are encouraged to ignite the light of wisdom within. Let us consolidate more positive energy and do good deeds together. May you think kind thoughts every day and be blessed with good fortune."
One of the highlights of this event was the Endorsement of the Declaration of the International Day of Conscience. Since April 2018, Dr. Hong, Tao-Tze, who is also the president of the Federation of World Peace and Love (FOWPAL), has led volunteers of Tai Ji Men and FOWPAL to promote a culture of peace with love and conscience. Ambassadors and delegates from more than permanent 30 missions to the UN have shown enthusiastic support of such a culture. On February 5th, FOWPAL globally launched the endorsement campaign for the Declaration of International Day of Conscience and set April 5th as the International Day of Conscience. It is to urge everyone to follow the voice of conscience and spread love and peace to attain inner and world peace. Since then, more than 8000 people from 38 countries have endorsed the Declaration online.

Nearly 300 people endorsed "the Declaration of International Day of Conscience" at Tai Ji Men's Lunar New Year Celebration in Cupertino, CA, USA.
Cupertino Vice Mayor Chao stated, "Every day we should be thinking about how we act out of conscience ... Especially in this time when technology is leading everything, there is artificial intelligence that might be replacing humanity. However, a computer may never have a conscience and human life. This might be what separates us from an artificial intelligence machine in the future."
San Jose Councilmember Johnny Khamis mentioned, "Conscience should be a part of every day of our lives. As a person who actually grew up in the Middle East and lived through a war, it is important to understand that peace is the way to live. And respecting each other is the way I live my life. Every day I respect every person that I meet, I respect everybody's culture, I respect everyone's beliefs. And I hope everybody can do the same; we would be living in a very peaceful world."
Sunnyvale Council Member Michael Goldman during his interview said, "Conscience is important for all of us at all times. My conscience on the council is to represent the people, the will of the people at all times, regardless of where it may take me."
As a grand finale, Tai Ji Men choir and the audience sang the song "Love" to encourage people to unite and create a friendlier, better world.