San Jose Tai Ji Men Qigong Academy Celebrates 18 Years of Brilliance and Love
2019-05-20
Guests did martial-arts squats and experienced cultural Gong Fu Tea at Tai Ji Men, an ancient men pai (similar to school) of qigong and martial arts.
The 18th anniversary celebration of San Jose Tai Ji Men Qigong Academy took place on April 28th at the academy (10590 S De Anza Blvd., Cupertino, CA, 95014). Guests were welcomed at the entrance with Gong Fu Tea, a special way to drink tea. After this unique cultural experience, guests walked through a gallery of photographs which chronicled the academy's commitment to promoting love and peace around the world. Other programs of the day included a parent-child forum, making handmade clay for children, and the interactive photo booth. Nearly 150 people attended this grand event which celebrated the academy's 18-year-long journey in the Bay Area. Stories of how members achieved better mental and physical health through practicing qigong at Tai Ji Men were shared, which was the main theme of the event.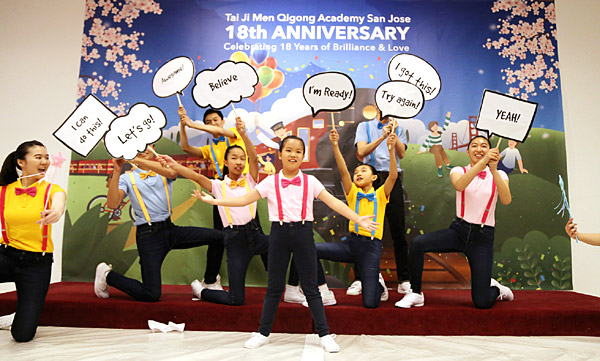 A musical by the youths of Tai Ji Men portrays the internal process of finding a positive mindset.
The Tai Ji Men youths opened this celebratory event with an energizing musical, "Let Love Light Up your Life," and sang the song "Love" as a grand finale. They encouraged everyone to rid themselves of all their fear and sadness, to trust in themselves, and allow love to light up their lives. Wayne Chia, the representative of Tai Ji Men Qigong Academy in San Jose, shared with the audience a message from Tai Ji Men's Zhang-men-ren (grandmaster) Dr. Hong, Tao-Tze. Dr. Hong stated that over the years, Tai Ji Men members have actively interacted with the community by sharing and practicing the idea of love and peace through conducting cultural exchanges and organizing symposiums for the public. He also stressed that Tai Ji Men members hope to create a peaceful and harmonious environment through maintaining a balance between technology and spirituality and achieving the unity of knowledge and practice. "During the past few years, many good friends have joined the Tai Ji Men Energy Family. Their kind hearts and good deeds have inspired many," added Dr. Hong.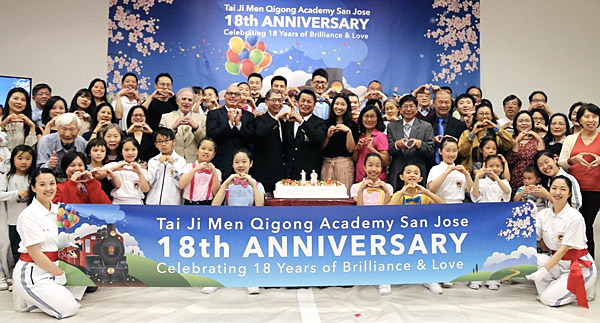 Guests celebrated the 18th birthday of San Jose Tai Ji Men Qigong Academy.
The parent-child forum highlighted the importance of good communication in establishing a positive parent-child relationship. Some Asian parents who work in high-tech companies in Silicon Valley have high, unrealistic expectations for their children. Alan Hung, recalled how his parents signed up 14 after-school courses for him when he was 9 years old. He almost had a mental breakdown because of the stress. When Alan's father, Hung Wen Hung realized that Alan was unhappy, he remembered the wisdom of yin and yang he learned at Tai Ji Men: it is important to maintain physical, mental, and spiritual balance. He immediately lightened Alan's load by cancelling a few activities and helped reduce his stress by playing computer games with him. In addition, the concerns and encouragement of the brothers and sisters of Tai Ji Men also helped Alan cope with difficulties.
Distinguished guests including Miss Crystal Yu, representative of US Congresswoman Anna Eshoo, Cupertino Vice Mayor Liang-Fang Chao, San Jose Councilmember Johnny Khamis, and Sunnyvale Councilmember Michael Goldman joined the celebration and presented certificates of recognition to Tai Ji Men Qigoing Academy. In addition, California State Senator Jim Beall delivered a certificate prior to the event to recognize Tai Ji Men Qigoing Academy's effort in promoting traditional Chinese culture in Senate District 15 and throughout the Bay Area.
After the parent-child forum, Cupertino Vice Mayor Liang-Fang Chao shared her thoughts: "It was really nice to see how Alan transformed from someone who was very quiet to someone who is now able to go on stage to give a very inspiring speech. I think that is something we all wish our child could accomplish, especially Chinese. I was very shy like Alan in high school. However, you need to "just do it" and eventually you will be able to speak in public. Children need opportunities in taking their first steps, then they will be more comfortable taking a second step and so on. It seems to me Tai Ji Men provides the environment for all the Chinese children to blossom. So, I really wish more people can know about this happy, positive environment for children and families."
Tai Ji Men has a long history of commitment to promoting the culture of love and peace, and has advocated related issues with other NGOs. All guests were invited to endorse the Declaration of International Day of Conscience, injecting positive energy into themselves and the world. According to statistics from the Federation of World Peace and Love, the total endorsements for the Declaration has reached 13,400 people from 122 countries as of April 28th, 2019.