H.E. Mr. Martin Torres Gutierrze Rubio, Director of the Mexican Trade Services Documentation and Cultural Office, praised Tai Ji Men brings hope to the World
2019-08-25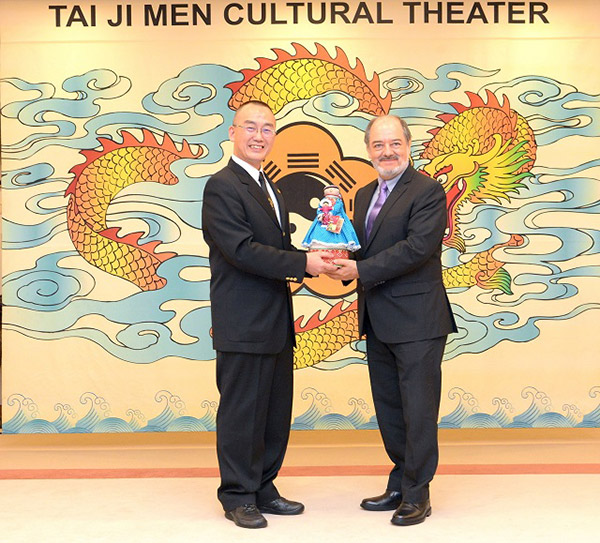 On April 11th, 2019, H.E. Mr. Martin Torres Gutierrze Rubio, Director of the Mexican Trade Services Documentation and Cultural Office, and his wife visited Tai Ji Men with the enthusiastic greetings from brothers and sisters. In this cultural journey, they were invited to appreciate the historical and precious gift collections that Tai Ji Men has received from heads of state and friends from all over world. The collections delivered the message of love, peace and friendship. H.E. Mr. Rubio and his wife were impressed and touched by the actions that Dr. Hong, Tao-Tze, Zhang-men-ren of Tai Ji Men, and his dizi through the cultural exchange to deliver the message of love and peace in the world.
Last year's Chinese New Year Gathering was the first time when H.E. Mr. Rubio brought his family to attend, and they also felt really impressed. This year, Mr. Rubio visited Tai Ji Men once again and said that he felt the positive energy from Tai Ji Men which proves the global actions of love and peace that Dr. Hong and his dizi have done and the great hope which is the contribution to human and the society that Tai Ji Men brings to the world.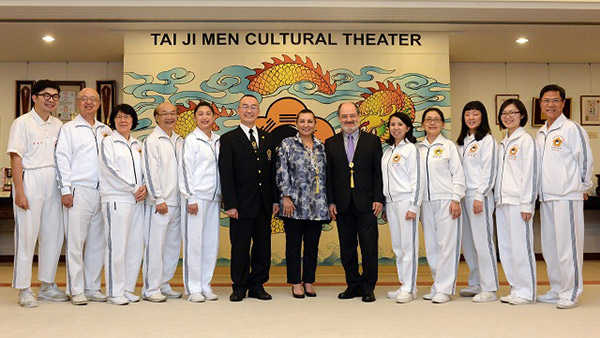 Besides, Mr. Rubio gave Dr. Hong a special and precious gift, a handmade doll by Mexican aborigine; In return, Oliver Lee, a Tai Ji Men dizi, also presented Mr. Rubio gifts on behalf of Dr. Hong. Mr Rubio said that it is more than giving presents to each other because he thought that the Tai Ji yuan handcraft and the Tai Ji Men stamp collection are really meaningful and precious.
Mr. Rubio who places importance on traditional culture, has held various cultural activities in Taiwan such as the Day of the Dead and Mexican cultural exhibitions. In 2018, Tai Ji Men dizi were also invited to the Mexican National Day Reception in Taiwan. The Tai Ji Men dizi said that it was touching to sing the national anthem with Mexicans. Although H.E. Mr. Rubio was not available to attend this year's Chinese New Year Gathering, he assigned two Mexican exchange students to participate in the gathering for cultural exchange.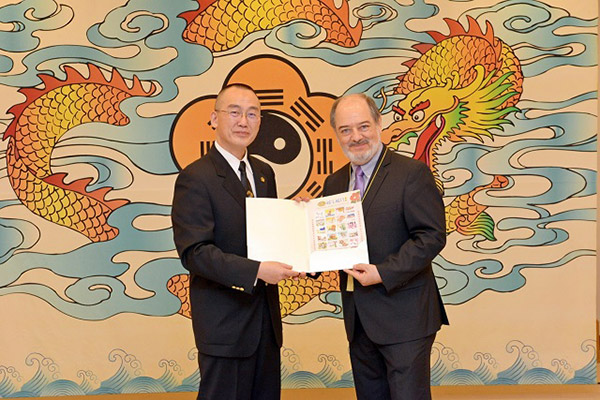 Mr. Rubio's wife visited Tai Ji Men the second time. She said that love and peace are very important because she always takes action with love and peace in her mind. This visit made her learned a lot and broadened her horizons, she said, and she felt love. So, she would like to share this love to everyone.
Furthermore, Mr. Rubio said that it is meaningful to see the two organizations to attend each other's cultural programs. He said that it is expectable to have deepened understanding from which they can benefit, especially from the contributions of Tai Ji Men.