H.E. Mr. Ibrahim A. Ahmed, Trade Commissioner of the Nigeria Trade Office in Taiwan praised Tai Ji Men for spreading love and peace
2019-08-25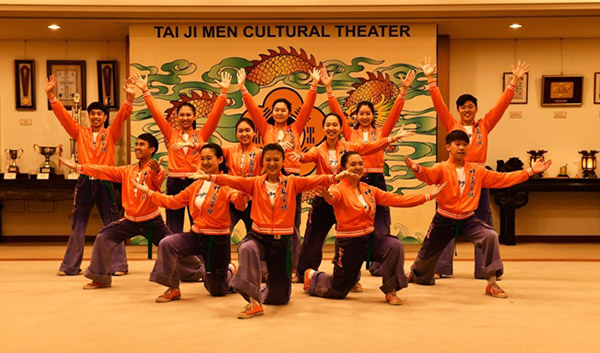 H.E. Mr. Ibrahim A. Ahmed, Trade Commissioner of the Nigeria Trade Office in Taiwan, R.O.C, visited Tai Ji Men in the afternoon of June 11th, who also took part in Tai Ji Men Chinese New Year Gathering when he took office this February. H.E. Ahmed considered Tai Ji Men to be a unique, very different and surprising place. He added that Tai Ji Men's work of promoting love and peace is great and important and is exactly what the world needs.
On that day, Tai Ji Men introduced the deeds that Dr. Hong, Tao-Tze, Zhang-Men-ren of Tai Ji Men and President of the Federation of World Peace and Love (FOWPAL) led dizi to travel around the world for cultural exchanges, as well as the stories behind the awards, certificates and gifts from important leaders of various countries. For the past 53 years, Dr. Hong and his dizi have visited 93 countries on their own expenses and efforts to spread the concept of love and peace and has successfully invited 352 leaders globally to ring the Bell of World Peace and Love while making a grand wish for the world.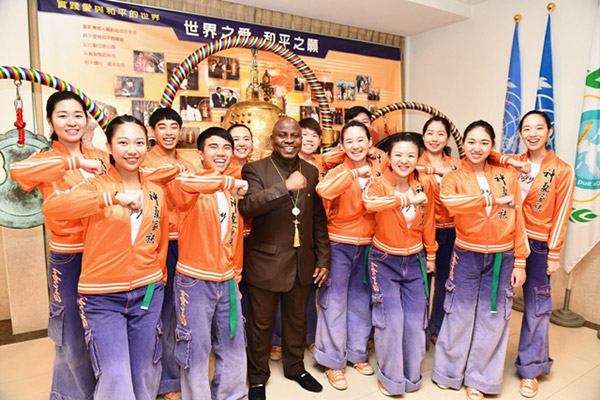 Tai Ji Men showed good manners and enthusiasm of the ancient martial menpei to welcome this distinguished guest. Young volunteers of Tai Ji Men brought the joyful energy by performing a vigorous dance. H.E. Mr. Ahmed said with pleasure that he was very grateful and felt lucky to come to Tai Ji Men, hoping to know more about Dr. Hong. He believed that love and peace are inseparable, and only when there is peace in heart that people can really love others. Meanwhile, love and peace need to be reinforced through education, and the message can be spread by establishing awareness and consciousness.
H.E. Mr. Ahmed also watched the film of Tai Ji Men's martial arts performance in the opening ceremony of the Taipei Universiade in 2017, and some young students shared their experiences of practicing qigong, as well as the experiences learnt from Dr. Hong to promote the era of conscience movement around the world.
Chen, who is an elementary school intern teacher, shared that she told her students that sincere cultural exchanges transcend national boundaries and language barriers, and through performances, dancing, smiles and hugs, people can make friends with each other without talking. Not only groups like people to people and countries to countries become more friendly to each other, but even unite the whole world.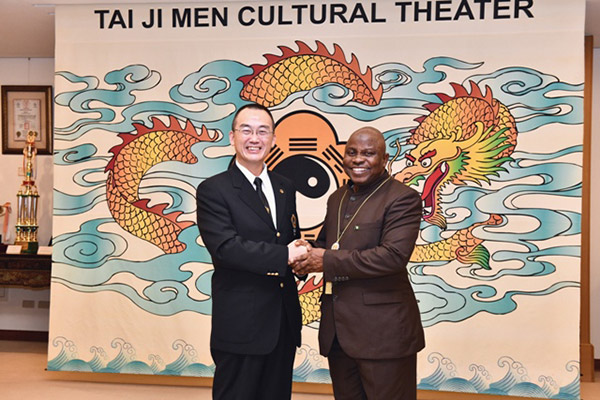 Lin Hong-Ming, a college freshman-to-be, also shared the bravery he learned in Tai Ji Men. In senior high school years he found that a classmate was cheating during the test. He decided to come forward and told the classmate that cheating was wrong because he knew that silence is a kind of violence.
Michel Hu, who is in the last year of junior high school, shared the culture exchange adventures accompanied by other Tai Ji Men brothers and sisters from all over the world. He not only exercised the ability of teamwork, but also had the opportunity to hear the encouragement from the world leaders given to young people, "You all are the future, and you can make the world a better place."
It has not been long from H.E. Mr. Ahmed took his office in Taiwan, but he recognized that he has come to a safe and friendly place. He mentioned that he had profound realization of peace and education, and he agreed that peace should be started from education and take deep root so that people are able to have a peaceful and safe living environment.
H.E. Mr. Ahmed also mentioned that Dr. Hong is doing a great job on leading Tai Ji Men's work of promoting conscience since love and peace is very important. Conscience is the beginning of happiness. Conscience can make oneself reach inner peace and be able to get along with others, and people possessing conscience are able to promote this concept to the community. He praised Tai Ji Men for the achievements being valued and recorded by the world, and he prayed and wished good luck for Tai Ji Men to continue promoting love and peace.