Ambassador of Paraguay in Taiwan visits Tai Ji Men and enjoys young power and friendliness
2019-08-25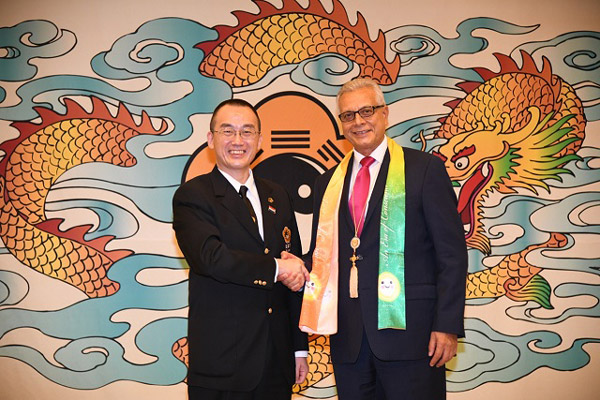 Ambassador Marcial Bobadilla Guillen, who has been in the diplomatic system for forty years, is very impressed by Tai Ji Men's promotion of love and peace at home and abroad for many years.
H.E. Ambassador Marcial Bobadilla Guillen of Paraguay in R.O.C. (Taiwan) visited Tai Ji Men Nei Hu Academy on Wednesday morning, July 10th and was welcomed by Tai Ji Men dizi (similar to student)! Through this visit, Mr. Bobadilla Guillen realized Tai Ji Men's long-term effort for love and peace. He mentioned, "I learned many things, and I saw the pictures, and you showed me a very, very important thing...You're achieving with the rest of the world."
Mr. Bobadilla Guillen served as Ambassador in 2013 and before that he was Deputy Chief of Administration and Technical Affairs in the Ministry of Foreign Affairs of Paraguay, Ambassador to Moscow and so on; he is Paraguay's senior diplomat. He had great relationship with Tai Ji Men during his stay in Taiwan; he and his wife attended Tai Ji Men Chinese New Year gathering in 2016 and 2017 and were deeply impressed. They also received full joy and energy from Tai Ji Men. He mentioned that when he attended (Tai Ji Men) activities a few years ago, many young people shared the meaning of traveling around the world. He was impressed that Dr. Hong, Tao-Tze, Zhang-Men-ren of Tai Ji Men, had been to so many countries! He hoped Dr. Hong can meet with the president of Paraguay, H.E. Mr. Mario Abdo Benitez, to share with him the ideas and together work for world peace.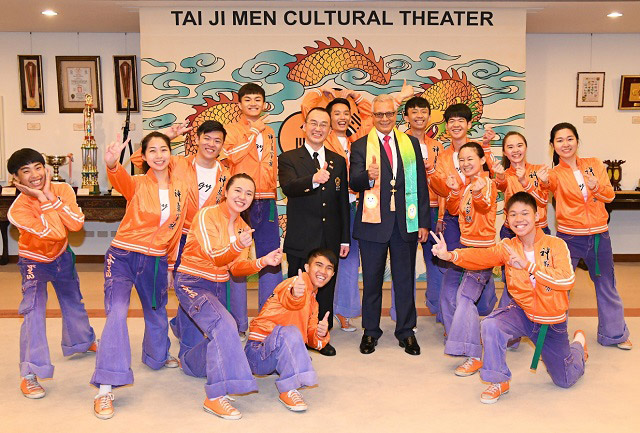 Ambassador Marcial Bobadilla Guillen asks to take photos with young people initiatively. Different gestures of each young person also represent different meanings and blessings.
Thirteen Energy Boys & Energy Girls from junior, senior high, and university also danced with songs like "The Angel in Your Heart," "We Can Change the World," and "Happiness is Everywhere." Mr. Bobadilla Guillen listened attentively and nodded with beats from time to time, deeply infected by these youngsters' vitality. He also sang a Spanish song "Bienvenido Hermano Extranjero" and a Chinese song "The Moon Represents My Heart" on the spot. He indicated this Spanish song meant Paraguayans are very friendly, just like Taiwanese, and show the land, the sunshine, and the fraternity to all foreigners who come to Paraguay. The English translation of this song is "Welcome to you, my foreign brothers."
Hsin-Jung (Lorraine), who will be as junior in university, shared with the ambassador that she used to have a long face all the time, but after she joined Tai Ji Men, shifu (Dr. Hong) taught her to smile genuinely from the bottom of her heart. She said, "I believe wholehearted smile can spread positive energy and help others. A P.E. teacher in my high school hoped to see me in campus every day because she would be in a good mood once she saw me. She said I was like her sunshine."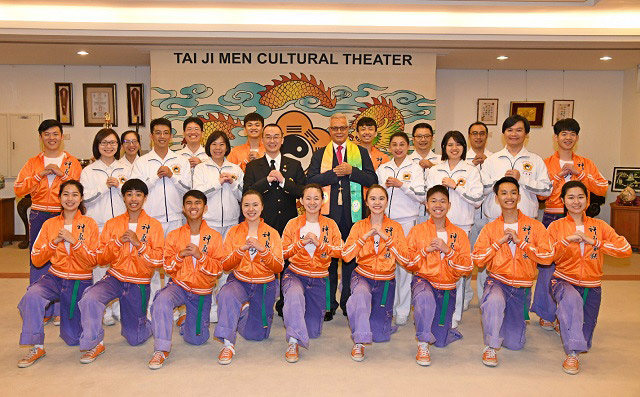 Ambassador Marcial Bobadilla Guillen and the Tai Ji Men dizi make conscience gesture, hoping the world of love and peace will come soon.
Hsiu-Yi (Mitchel), who will be in eighth grade in junior high, shared with the ambassador that 4 generations of his family all practiced qigong in Tai Ji Men. His grandparents, 75 years old, can drive car, hike in mountains, and exercise on their own without help from others. His grand-grandmother even lived till 104 years old and passed away without any pain or illness. He went with shifu to India and spread love and peace in the November of 2018. During then, he not only learnt bravery but also happily presented Chinese ancient culture to foreign friends. Yin-Wei (Eric), who had suffered from severe nasal allergy since young, also shared that practicing qigong not only soothed his allergy, but helped him study effectively, remain calmness during tests, and get better grades. He said, "I am grateful that shifu teaches me wisdom and I successfully get admitted to the department of dentistry in National Taiwan University."
Seeing the vitality of these young people, Ambassador Marcial Bobadilla Guillen quickly got up, walked to the young people and asked for a group photo. The Ambassador encouraged them "to be good persons, try to stick with us very closely, and try to be all together most of our thinking and feeling of our heart to the rest of the world." He also said that he hopes and waits for the new generation to become better than us "because you are building peace, studying about how can the human-being is going to be better...They cultivate the love and peace inside of them and give it to the earth. That's the important sign for all the people in the world because we needed the peace, and we needed the love." He encouraged young people to continue to step forward to this direction!
Ambassador Marcial Bobadilla Guillen, who has been in the diplomatic system for forty years, is very impressed by Tai Ji Men's promoting love and peace at home and abroad for many years! In particular, he saw that Dr. Hong can guide so many young people to practice love and peace in their lives and to contribute to the world. He also has a special understanding of Taiwan. He said, "For me, it's (Tai Ji Men travel around the world) a great idea because wherever you go, whatever you want to do it with us is only be working together for the peace and for the world and for the various life or the future generation."