2019 Tai Ji Men Chinese New Year Gathering
2020-08-16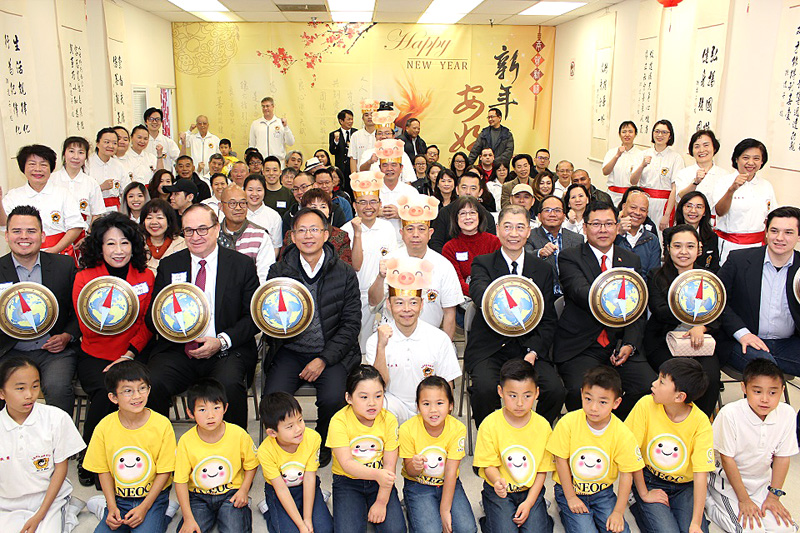 Nearly 150 people of various ethnic backgrounds attended Tai Ji Men's Chinese New Year Gathering in the city of Walnut to celebrate the most important holiday for Chinese.
On February 17, Tai Ji Men Qigong Academy hosted a Chinese New Year celebration at its academy in the city of Walnut, with nearly 150 people in attendance. Over the years, the academy has held similar celebrations in the beginning of each spring, spreading boundless positive energy to the community and wishing everyone the best of luck! This year, people of different ethnic backgrounds enjoyed a festive afternoon together at the academy.
On behalf of Dr. Hong, Tao-Tze, Zhang-men-ren (grandmaster) of Tai Ji Men, a Tai Ji Men dizi (similar to student) welcomed all attendees and read Dr. Hong's welcome remarks:
In the face of a tumultuous year ahead, we need to bring global citizens of goodwill together even more. I have led Tai Ji Men dizi to promote love and peace in 90 nations. As we practice martial arts and devote ourselves to improving all aspects of our lives, it is our inherent duty to help people, improve the world, stop conflicts, and promote kindness. As fate has brought us here today, we cordially invite all of you to endorse the "Declaration of International Day of Conscience." Everyone is a leader of conscience. All are encouraged to follow their conscience and bring out their best to strive together for a culture of love and peace.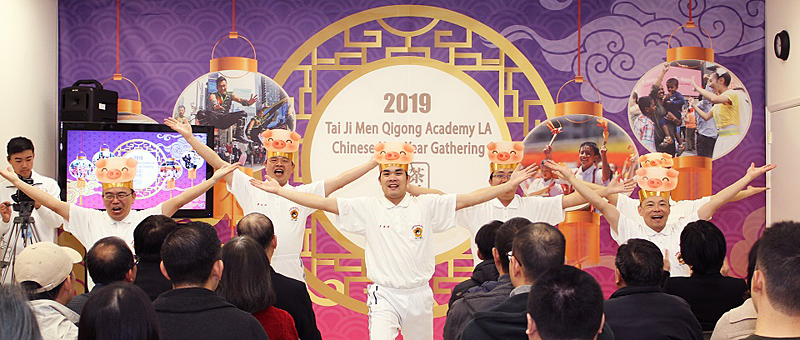 The funny "Golden Pig" dance brought tons of happy energy to the audience.
Since April 2018, Dr. Hong, Tao-Tze, who is also the president of the Federation of World Peace and Love (FOWPAL), has led the volunteers of Tai Ji Men and FOWPAL to promote a culture of peace with love and conscience, and over 30 Permanent Missions to the United Nations have shown enthusiastic support of such a culture. On February 5, 2019, Dr. Hong officially launched an endorsement campaign for the "Declaration of International Day of Conscience" and proclaimed April 5th as "International Day of Conscience," reminding people to listen to their conscience, spread love and care, as well as achieve inner peace and world peace. One touch can change the world! In just 12 days, over 7,000 people from more than 30 countries have endorsed the declaration. At the Chinese New Year celebration, guests from all walks of life were invited to endorse the declaration.
The celebration also featured various folk activities, including writing Spring Festival couplets, picking red envelopes, stepping on peanut shells (symbolizing peace and security), roasting oranges (symbolizing good luck), and guessing riddles. Additionally, cheerful cultural performances were presented. A funny "Golden Pig" dance brought tons of happy energy to the audience. A group of Tai Ji Men's children aged 3 to 10 sang a song called "The Angel in Your Heart," which touched the audience members' hearts. Tai Ji Men members also delivered a sign language performance, radiating good energy to all the guests. The academy hopes that on the eve of the Lantern Festival, people will light up the light within, make New Year resolutions, and put them into action so that the Year of the Pig will bring them good fortune and success.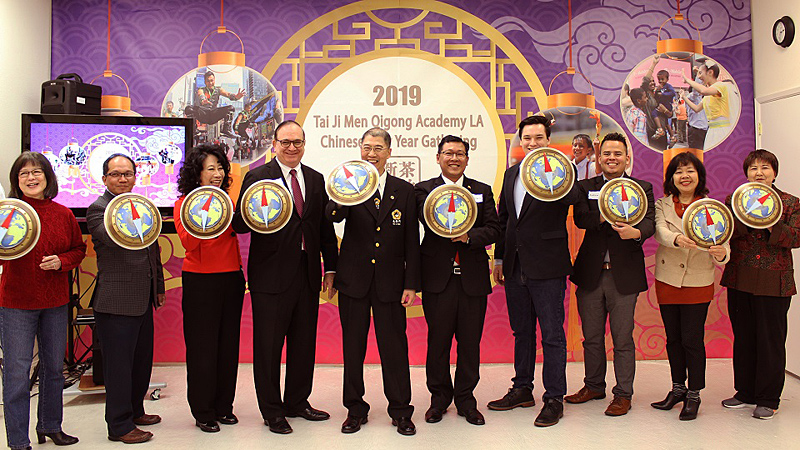 Honored guests held "conscience compasses" in support of the global endorsement campaign for the Declaration of International Day of Conscience.
The event was attended by many honored guests, including Mr. Thant Sin Oo, Deputy Consul General of the Consulate of Myanmar in Los Angeles; Ms. Myat Thwe Aung, Consul of the Consulate of Myanmar in Los Angeles; former California Senator Bob Huff and Mrs. Huff; Mr. Luke Forbes, representative of California Assemblyman Phillip Chen; Mayor Nancy Tragarz of the city of Walnut; Mayor Pro Tem Andrew Rodriguez of Walnut; Ms. Mary Ng, vice president of Chinese American Association of Walnut; Mr. Aung Min Naing, president of Net Myanmar American Association; Ms. Ivy Kuan, president of National Taiwan University Alumni Association of Southern California; Ms. Xiaocui Liu, president of International Martial Arts Federation; and Mr. Eduardo Valverde, director of Alma Tica Folk Dance Group.
Congratulatory notes were received from various leaders and organizations, including Myanmar Consulate in Los Angeles, US Senator Dianne Feinstein, California Senator Ling Ling Chang, California Assemblyman Phillip Chen, Los Angeles Mayor Eric Garcetti, LA County Supervisor Hilda Solis, Walnut City Council, Temple City Mayor William Man, San Gabriel City Council, and Mayor Javier John of Montclair.