Outstanding Women and Leaders Observe Peace Day
Conscience is the key to maintaining world peace.
2022-11-15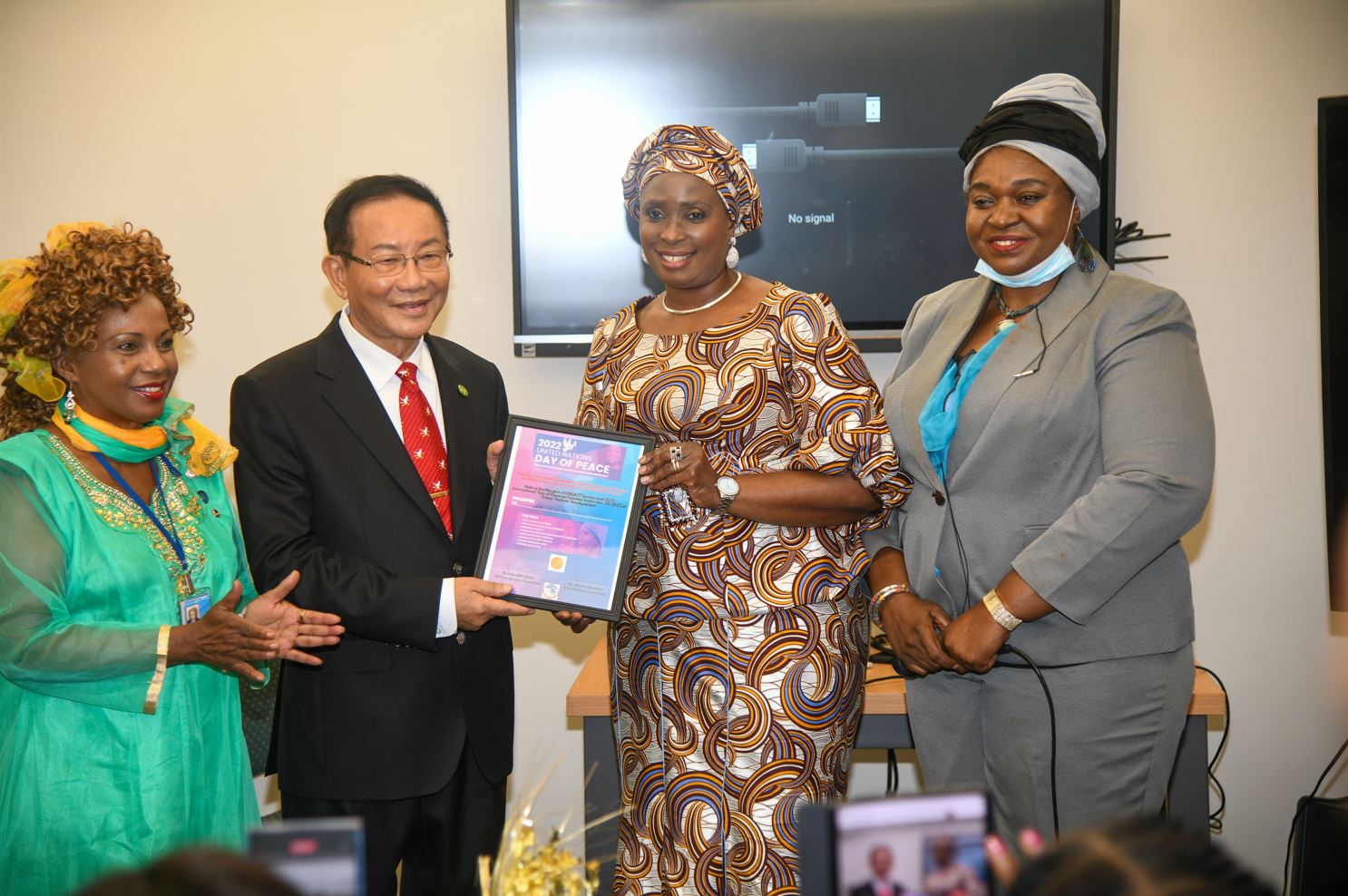 Dr. Hong, Tao-Tze, the zhang-men-ren (leader) of Tai Ji Men and president of the Federation of World Peace and Love (FOWPAL), was presented with a certificate of participation. From left, Dr. Monica Sanchez, Dr. Hong, Victoria Irabor, and Dr. Ada Okika.
September 21 marks the UN-designated International Day of Peace, and this year's theme was "End racism. Build Peace." With the ongoing COVID-19 pandemic, war, racism, extreme weather events, and other threats, the turbulent world now needs much more peaceful energy than ever before. Various celebratory events were held around the world to honor this significant occasion. On September 20, 2022, Africana Women Working Group at the UN and Miss CARICOM International Foundation Inc. co-organized an event with the theme "Model Approach for Women in Leadership on Global Peace, Security and Transformative Pathways," where influential leaders shared their insights on how to foster global peace and security while protecting the rights of women and girls.
UN Secretary-General António Guterres' message on International Day of Peace 2022 emphasized, "Peace is a noble and necessary pursuit, and the only practical pathway to a better, fairer world for all people." "Instead of fighting each other, we should be working to defeat our true enemies: racism, poverty, inequality, conflict, the climate crisis and the COVID-19 pandemic. We should tear down structures that sustain racism, and lift up human rights movements everywhere. And we should drown out the vicious voices of hate speech with a united and sustained cry for truth, understanding and mutual respect."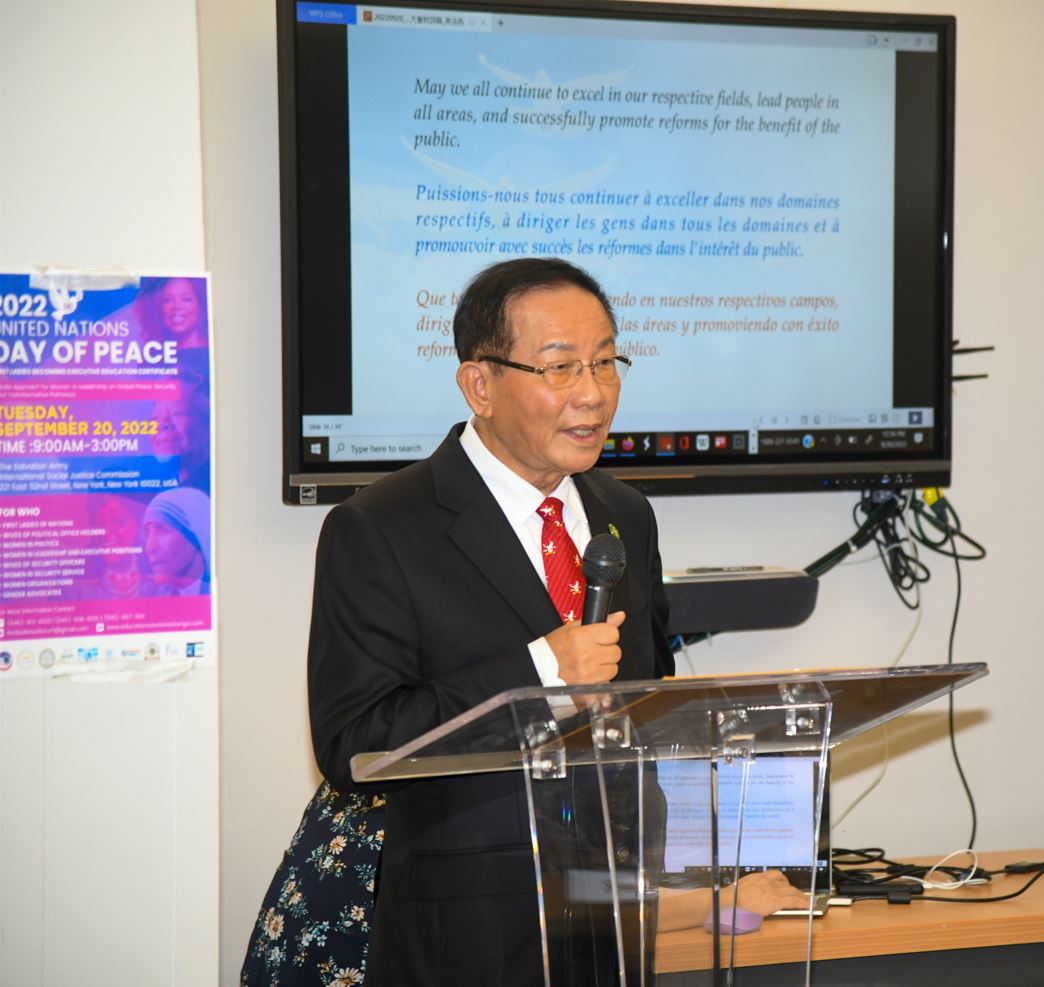 Dr. Hong, Tao-Tze delivered a speech, emphasizing the importance of conscience in the promotion of peace on September 20, 2022, the eve of International Day of Peace.
Dr. Ada Okika, UN coordinator of Africana Women Working Group at the UN, highlighted the importance of gender equality and the elimination of racial discrimination for the attainment of global peace and security. She highlighted her point by quoting UN Secretary-General's key message on the International Day for the Elimination of Racial Discrimination 2022: "Racism continues to poison institutions, social structures, and everyday life in every society. It continues to be a driver of persistent inequality." She encouraged everyone to continue to strive for peace and make meaningful contributions to society.
Dr. Hong, Tao-Tze, the zhang-men-ren of Tai Ji Men and president of the Federation of World Peace and Love (FOWPAL), delivered a speech at the meeting, emphasizing, "We need to learn to uphold our conscience and realize our potential to see our true nature. We must know how to help ourselves and others, unite and integrate ourselves, and pursue the realization of our divine mission, guided by the treasure that everyone has and is born with—conscience. It is the key to maintaining world peace."
Dr. Hong also pointed out, "If we can constantly calm ourselves, reflect on ourselves, repent, correct our mistakes, and follow the guidance of our conscience, we can be wise and inspire one another to create a better model. Whether it is a model for interacting with people or a model for promoting peace, security, and change, it all starts with conscience, which enables us to maintain composure and clarity, recognize our divine missions, be willing to overcome all obstacles, and persevere through hardships." The participants were very impressed by Dr. Hong's speech and gave him a standing ovation.
Several prominent women and leaders also shared their perspectives on women's empowerment and peace promotion. A variety of issues were discussed, including the important role of women, youth and civil society as models for achieving peacekeeping; women's participation in the peace process, politics, governance, institution building, the rule of law, security sector and economic recovery; empowering women; promoting gender equality; enhancing women's professional skills and knowledge; eliminating gender discrimination; and others.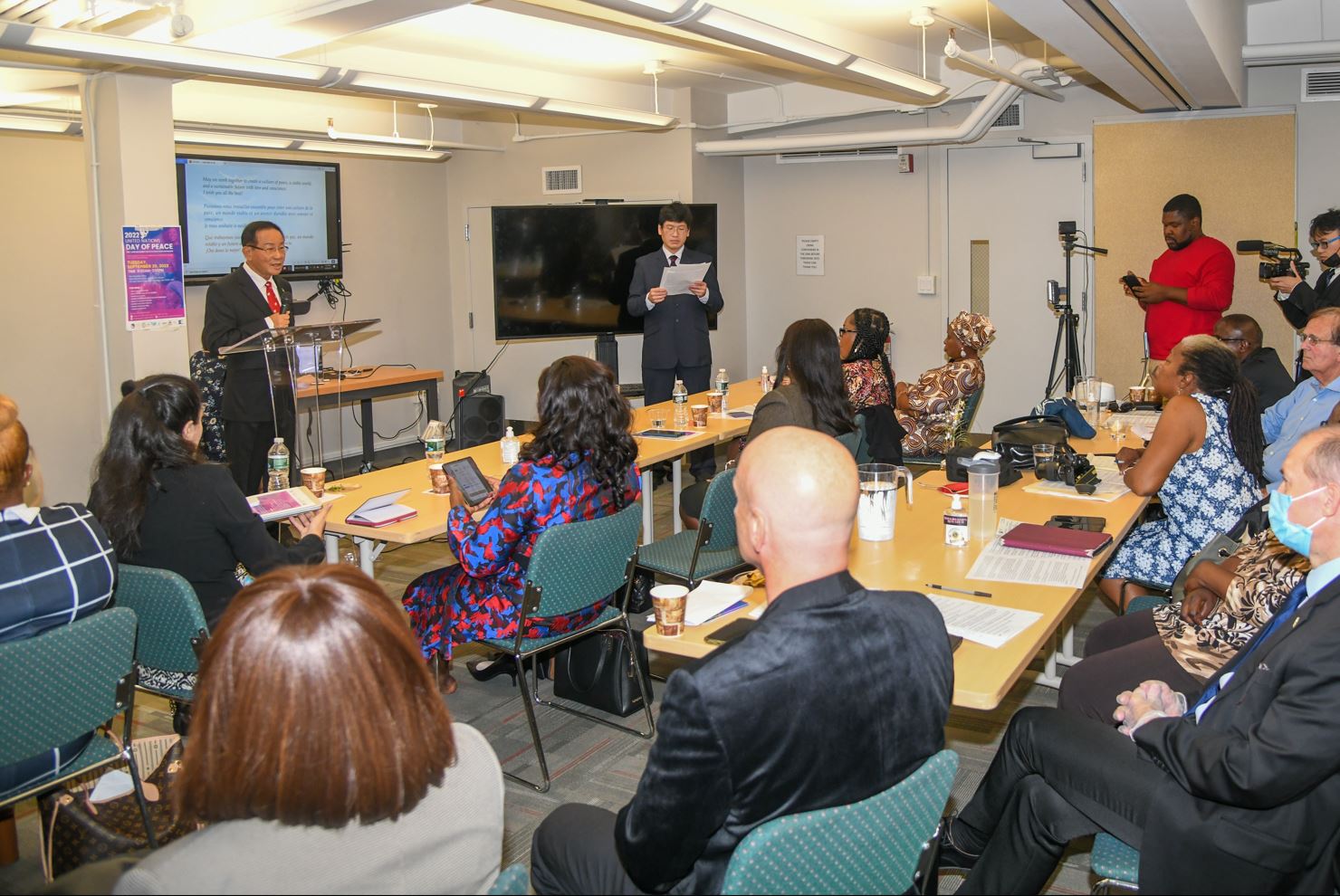 On Sept. 20, 2022, the Africana Women Working Group at the UN and Miss CARICOM Intl Foundation co-hosted an event, where influential leaders shared how to foster global peace and security and protect the rights of women and girls.
Peter Rogina, founder at Project Peace Lights, stated that the world's future is dependent on women. He highlighted the importance of peace education using the example of Claudette Colvin, who was arrested at 15 in Montgomery, Alabama in 1955 for refusing to give up her seat to a white woman on a crowded, segregated bus because she was defending her rights, thanks to teachers like Miss Geraldine Nesbitt, who provided knowledge to her. This incident occurred nine months before Rosa Parks' courageous act of similar protest, which sparked the Civil Rights movement in the United States. This showed that peace education really saves lives, said Rogina, advocating that a culture of peace and tolerance should be instilled into children and youth.
Victoria Irabor, president of Defense and Police Officers Wives Association, Nigeria, stated that women are better prepared than men to ensure peace. She encouraged women to guide their children and influence men, the youth, other adults, and heads of state. She urged other wives of military leaders and police officers to influence their husbands by speaking the truth gently. "We have a lot to do as women," she said, noting that women can all contribute to peace in different ways, including speaking about peace in their homes, churches, and offices. She called on everyone to take action and be an instrument of peace.
Dr. Monica Sanchez, CEO of Miss CARICOM Intl Women Foundation, reminded the audience of the importance of taking real actions for peace. She said that she and Dr. Okika have been working tirelessly for education for gender equality and for marginalized people although it is not an easy fight. Racism is not just about the color of people's skin, and it comes in many ways, said Dr. Sanchez, adding that people can never experience peace as long as discrimination exists whether it is financially, spiritually, or in other forms. Mutual exchange and understanding create balance that can lead to peace, and that understanding cannot come without education, noted Dr. Sanchez, emphasizing that education is the key that opens all the doors. She encourages everyone to practice kindness, which will encourage peace and end racism.
The discussions and exchange of ideas, knowledge, resources, and wisdom among influential leaders and outstanding women leaders from all walks of life were a significant addition to this year's International Day of Peace celebration and served as an integral part of their continued efforts to promote world peace.