Smiles from the Heart
Tan Liling 2013-07-17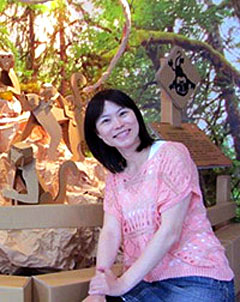 I am a Libran who is destined to have a peaceful personality, wishing to maintain a harmonious relationship with everyone. Normally I acted like a Miss Goody-goody, however, while under pressure, I could lose control of myself then my bad temper I usually hid well erupted. I don't care how other people look at me anymore. My face stiffened and I looked gloomy and cold. My friends said, "Your face without smile is as scary as it can kill."
Within the month before and after the beginning of a semester, the department office of the school where I work is always filled with people. And there are always people rushing in and out of the office, asking all kinds of questions concerning the selection of their courses. As the department assistant, I have to deal with their questions one by one. And I must give clear answers patiently; otherwise there will certainly be some "messages" on the bulletin board of the campus network, costing me one more report to write.
A busy semester began as usual, only this year I had a situation. This must have been the most difficult semester in my 10 years of being an assistant ── the Dean left his post and the other department assistant resigned, leaving the staff of the department office all newcomers except me. During that period, I worked until eleven or twelve at night almost every day, and was often the last one who got off work in the whole campus. Once in my office, I have to keep talking and rushing in and out handling all sorts of things. The new Dean asked me questions about using the software, the new assistant asked me for help on his works; teachers reported hardware malfunction, and then a bunch of students came in the office asking questions; in addition, administrative office kept calling me asking for documents, or to attend meetings. All day long I was as busy as a spinning gyroscope, but I was still calm and always reminded myself to stay pleasant to do everything. I found that I have been changing.
Many thanks to Shifu who gives me this rare and precious opportunity to practice qigong at Tai Ji Men Energy Family, I not only demand myself to practice qigong on daily bases, I watch Energy Family on the internet to learn how fellow brothers and sisters deal with difficulties at work along with their Tai Ji yin-and-yang wisdom. Even though everyone here came from different places, has different jobs, and different backgrounds, through their reflections on qigong practice, I learn my problems, lacks, and vulnerabilities, and by sharing of their experiences, I learned to face them, solve them, and surpass myself.
Gradually, I find that when I am getting nearly upset, Shifu's kind words appear in my head, these words remind me to have a peaceful mind, not being at rage while having too much to deal with at work; when the mood is down, I remind myself of knowing letting go, stay positive; when I am confused or unconfident, I must have a brave and strong will to overcome difficulties.
Shifu reminds us, learning Tai Ji Men gongfu can improve our health, but more importantly we can help others and create the value of our existence. Although the students ask me many questions about course selection, my explanation will keep them away from making mistakes on the selection. Though the administrative works of our department is quite complex, my hard work can enable the office to run smoothly. Isn't this the value of my existence? With this kind of mindset change, now, even though I am busy, I'll remind myself to stay at my optimum condition in every moment, to serve others with enthusiasm, and do my duty well. I would like to get rid of my scary face completely. I am grateful that Shifu and Shimu teach me to make myself a cheerful face and live a wonderful life.