Free Golden Time
Yang Tao 2013-07-13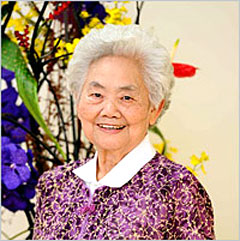 It is said that life begins at seventy. Before practicing qigong in Tai Ji Men, I had never thought that I would have the chance to be aged seventy. However, I am already eighty-year-old now. I feel as if I were just eighteen, filled with joy and happiness in my heart every day!
I used to feel great fatigue both physically and mentally due to imperfect marital relationship. Seeing me suffer from such great stress, my four children were so worried about me. During that period of time, it was something like building a castle in the air that I could keep myself in good health physically and mentally.
Having practiced qigong in Tai Ji Men for years, I can truly feel happiness in my heart. My Shifu has taught me a lot of wisdom. I learn how to let go of the past. Shifu always reminds us: People should leave behind all the misery of the past. Let it go! Forget it! Life will be easy.
I used to worry too much. As long as I was away from home, I felt anxious about my family and all the housework. Now I can concentrate on the thing with which I'm dealing. After going home, I will be concentrated on taking care of my housework. No more " messy" in my mind now. I can take challenges as they come.
I'm really thankful to Shifu. Practicing qigong makes me feel carefree and comfortable . Although I'm getting old, I feel more and more independent from my children. They feel relieved without worrying about me. I have four sons, who live in Taipei and Kaohsiung respectively. Because of good health, I can take care of myself and go visit them alone. Sometimes, I can even go to the academies in Taipei and the academy in Kaohsiung to practice qigong. It's okay for me to stay in any place.
I used to practice qigong in Taipei and dance with a group of brothers and sisters who were as old as me. I moved to Kaohsiung to stay with my 2nd son two months ago. One day, I received an invitation from the brothers and sisters who live in Taipei to participate in the activity "Night of Human Rights". I didn't expect that I was brave to go to Taipei alone to join with my brothers and sisters at that time. Before leaving, I was still a bit reluctant. Then the image of Shifu working hard to promote love and peace to the world suddenly came to my mind. Thinking that I could devote myself to helping the people in the country become better, I decided to join the activity with a positive attitude. Then I left for Taipei without delay.
In Tai Ji Men, brothers and sisters always share that old people have three goals to reach: being healthy, feeling joyful, and having wisdom. With them, the elderly will never cause their family members to worry much about them. Although I'm eighty, I'm still healthy, joyful, and independent. I can go around the country by myself. I'm so grateful when I think of my own condition. I even met President Ma-Ying-Jiu at the "Night of Human Rights". It would have never happened. Shifu turned my nightfall of life into the golden time. I'm so grateful that I can be healthy and carefree now. I'll keep enjoying my precious life and sharing my happiness with others.