Enjoying My Research and Development Job
Li, Ching-Shen 2013-09-13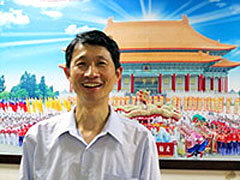 I have worked in the field of electronics research and development (RD) for two decades. People doing this kind of work are under a lot of pressure every day, for they have to face the challenge of developing new products. If they want to make money in this industry, it will cost them their health. For example, some died of overwork, and some are going bald or have gastrointestinal disorders. In my case, I once suffered from a severe gastric ulcer and had to go to the doctor at least once a month. Whenever I drank water, I suffered from hyperacidity, so I would refrain from drinking too much water. Even hiccupping would make me suffer, too. Because I dared not to drink plenty of water at work, I felt like my body had been drained when I got off work. That had bothered me for a long time.
Later on, recommended by my friend, I joined Tai Ji Men and learned Tai Ji Men Qigong from Dr. Hong, Tao-Tze. After practicing qigong, I quickly improved my health. Now, even when I drink plenty of water, I do not suffer from hyperacidity anymore. To be able to drink as much water as I want is such a wonderful thing. Staying healthy is the most important foundation stone for me to work happily at my research and development job. Since I started practicing Tai Ji Men Qigong, almost all results of my annual health exams have been within the normal range; for this reason, my colleagues envy me very much.
A great concern in the RD department of a company is that some of the novices who have received training for two or three years would jump ship or be headhunted with fat salary by its rival companies to manufacture the same products and cause destructive competition. As a director of our RD department, I felt uneasy and stressed every day because I worried that my subordinates might quit their jobs. In the Tai Ji Men Energy Family, my Shifu has taught us that we need to lead people by winning their hearts. Therefore, I started to use my own work experience to help my colleagues gather information and materials, analyze the products of our rival companies, and provide them with new ideas. That has made my colleagues think of me as a partner who can stick together through thick and thin. Additionally, my Shifu also said, "To give is to gain." Therefore, I contributed my patent bonus to our department's mutual fund for the expenses of afternoon tea and dinner party. To promote efficiency and innovation, I have offered meal coupons for my colleagues. With these positive incentive measures, we have created several products with the highest global market share, and we have top-grade techniques on my RD team. For these reasons, we can achieve the vision of becoming the happiest RD team in the world.
Sometimes, our marketing and RD department colleagues will inevitably have conflicts. For example, the marketing department often looks at things from our customers' perspective, requesting that our newly developed electronic products be more energy-efficient and ultra-quiet, which are probably not achievable by our current RD technology. The most common scenario is that our colleagues from the two departments would feel angry with each other before a problem gets solved, and no one is happy about it. My Shifu constantly reminds us to change our tempers, which is very useful for avoiding conflicts and disputes. I would often modify my temper and control my emotion before I talk with others. I often remind myself to be calm when discussing with our marketing colleagues about our product specifications or customers' requirements. Peaceful communication causes us to successfully develop new products, and more than 80% of them are able to meet the market demand.
In the eyes of my subordinates, I am easy going. In my boss' eyes, I am a trustworthy person. That's why I can work very smoothly in the company. Modifying myself in temper and character allows me to have a wonderful time in my RD career. As we know, a RD job requires long hours of work, and working overtime is routine. Every day, I work late and go to bed late. So, having a restful sleep is the most anticipated thing to me on holidays. My Shuifu told us that those who use their time wisely can find time to accomplish more things. Knowing how to plan my time has helped me a lot. I often make plans in advance and think about what to do next and what to do in the near future so that I won't feel rushed.
Even though I am busy with my work, I can still make the most of my spare time to do something meaningful to enrich my life. For example, I have participated in the performances on National Day, and one time I successfully reached the top of Mount Jade after sixteen hours of climbing that day. Recently, I am back to school for some management courses to obtain more knowledge. My two children are studying in elementary and junior high schools, respectively. That is a golden period in their lives, the most crucial stage to lay a solid foundation in learning, so I want to grow with them and start another golden decade in my life. I have listened to my Shuifu's words of wisdom and make good use of my time, and now I do manage to accomplish more!