Double "H" (Happiness and Hope) Dwells in the Soul
Li-Xun Huang 2013-10-21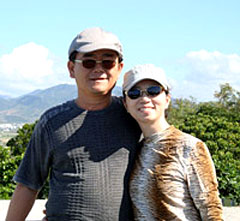 My family of four moved to a new house in the year of 1995. We went out camping one day afternoon. On the next day when we returned, our neighbor came hastily and warned us that the window of back door restroom of our house was unclenched. I was stroke by several terrible thoughts at that instant. And our front door was locked from the inside, so my husband had to climb from the back door window which got forced open in order to get inside of our house. When we got in, the door of kitchen's worktop was opened, a knife was missing; and upstairs, all the room locks got picked. Although the rooms were messy, the valuable purses, licenses, stamps, passbooks, deeds, etc. were remained untouched. Only some cash in the dressing tables, a gold necklace, a ring, and a stamp that bought from the Alishan were stolen. We lost estimated ten thousand dollars total.
Gratefulness was my first thought at that moment. A knife went missing, and thank god that no one was at home at that time, or else, the consequences would be unbearable. Sometimes spending money could be a way to overcome life difficulties. This accident happened after I was in Tai Ji Men nine months. If I encountered this sort of incidents in the past, I would be angry, sad, and definitely complained a lot. However; Shifu had told us before that all the pain came from not letting go and not being able to drop it down. It is critical to have a little perspective and not to agonize over things too hard. If you fuss about it one day then it is a rough day for you to get over. So if you get mad over a month, then it is you who gives yourself a hard, bitter time. Hence, why do I need to stress myself to the things that already happened? And fortune is mere worldly possessions; no matter how hard you cry or how mad you are, there is nothing you can do about to fix it, isn't it?
When I face a lot of difficulties or have bad moods, I always light myself up with this change of mind; Just like Shifu has said to us, "Life cannot always be smooth; the most important thing is to let the happiness and hope dwells in the soul. " You can actually paint your life with a brighter color whenever you want to change. To recall, my twenty-four-year-old marriage was like a bumpy and rough road to ride. My husband was impetuous and could easily get mad. If he got mad, he would break things or even abuse us. My two kids and I were all victims of domestic violence. I took care of my children and the housework all on my own. My husband got home after work, went out after dinner, and got back late like everyday routine. He was like a misery that brought down our family. He smoked cigarettes, drank beer, ate betel nuts, won money but lost them in the stock trading market, got into debt and almost got ourselves nowhere to live. Shifu had told us that being couples together in a life was actually paying debts of gratitude to each other. If a family wants to reach a harmony, family has to be united and peaceful. And this is why I never leave my husband. I choose to share weal and woe with my husband. I am married to him because I appreciate his talents. Even though he does not use them in the right way on the right path, I still stay with him. His failure is just temporary; I believe he can straighten himself up once again.
Look back at the past; I pay all my attention to my husband and two children, and spend my whole time to take care of my family. I am now changed by Shifu's encouragement. "You should learn to love yourself before giving and sharing the love to others." This simple meaning leads and directs me through my life path. I live for others like half of my life; I will live for myself from now on. And I find out that helping others is the happiest thing in my life. Shifu always takes Dizi to travel around the world, show love and care to others, and participate in charitable and public welfare activities. Even though I never go aboard and participate, I always promote every domestic activity such as "Global Endorsement of Declaration for Human Rights of World Citizens and Peace" and "2010 World Summit on Human Rights for World Citizens". Having these experiences helps me to comprehend the true meaning of "practice what you preach" and to appreciate the value of "unity of knowledge and action". I am willing to help the others, and devote myself in practicing social care with the rest of my life.