A Letter to Mom in Heaven
Jiang Rui Lian 2013-07-09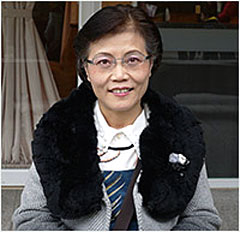 Dear Mommy:
Mother's Day this year is exactly the 49th day you have left us. Did you choose the day by intension? This day makes me recall those days when you were still with us. I know the day that you expected most every year was Mother's Day. On that day, you would see kids getting back to you, roll-call one by one and see who was late. We could only see your smile of relief until everyone was home. Your love for your kids was never less.
Mommy, today I bought a cake and a carnation, and I brought them to your grave to wish you a "Happy Mother's Day in Heaven." The cake was the same but the mood was totally different. Without your smile, it's tasteless no matter how delicious the cake was. My tears burst out every time I miss you. The past hidden deep in my heart comes back to my memory.
I still remember when I was a young girl. I broke up with my first boyfriend. You didn't bear to see me suffer, so you cried even more sadly than I. Now think of it, you had been very supported of me with your love. You worried I would be too sad to get it over. Mommy, thank you for accompanying me, loving me, and helping me to stand up on my feet again.
Mommy, the thing you are proud of the most is finding a Mr. Right for me and handed me to him. The day I got married, you covered bridal veil on my face. Looking at each other, we could not help but bursting into tears. The joyfulness on my face was shadowed by the mood of getting apart. Mommy, did seeing me get married feel like losing a treasure of yours? Thank you for your love and the sacrifice.
You were not even sixty years old at the time when your body started to suffer from all kinds of pains and aches. Acupuncture, massage, Chinese medicine, and Western medicine did not help to cure your pains. Your physical strength was decreasing because of long-term diabetes and slight thalassemia. My heart was bleeding and could no longer bear seeing you being tortured by the pains and illness at this old age. I took you to Tai Ji Men to apprentice to Shifu. We cultivate our hearts and practice Qigong to nourish our bodies. Practicing Qigong joyfully had gradually alleviated your body of the pains. Your chronic diseases ceased to get worse. Your body and mind were balanced. And your health and happiness were restored.
Things I never forget are the days we practice Qigong together. In the Tai Ji Men Energy Family, I saw fellow brothers and sisters were around you and laugh with you. I saw your determination to follow Shifu to convey the message of love and peace. We made use of our spare time to join the "Global Endorsement of Declarations for Human Rights of World Citizens and Peace", or promote human rights education in schools. In Tai Ji Men, we follow Shifu to do meaningful things together. For the past 20 years, our lives have true meanings.
Shifu often told us: "Cherish whatever comes to our life and let go whatever has perished…." Shifu's words enable me to overcome the sorrows of losing you, and what have left for me are only beautiful memories we have been together. Mother's love is in my heart forever. "Mom, I love you! Thank you for a lifetime devotion and endless love for me."