Turning My Unhappy Life into a Cheerful One
Lin, Hui-Juan 2013-09-06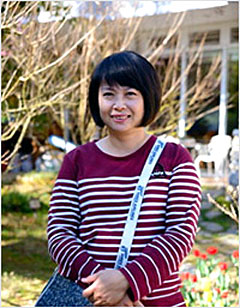 My story started with my unfortunate childhood. Since I was little, my father would physically abuse my mother and me, so I often felt unhappy. Afterwards, I even suffered from panic disorder and depression. Not until September 11, 2011, when I started practicing Tai Ji Men Qigong, did I feel that the heavy burden that I had carried for so many years was finally lifted. I had not felt so relaxed in a very long time. From then on,I stopped using antidepressant, which I had been taking for five years.
In fact 18 years ago, my sister-in- law had told me about Tai Ji Men. However, my heart was closed at that time and missed out on the opportunity to join Tai Ji Men; therefore, I continued to suffer for 10 plus years! Finally, in the year of 2011, I felt that I could not bear the physical and psychological pain any more. Fortunately, a Tai Ji Men dizi Li-Hui, who had never stopped her caring for me, invited me again to have tea and a heart-to-heart chat at Tai Ji Men. The moment I stepped into Tai Ji Men Qigong Academy, which is very bright and clean, I sensed a very nice atmosphere. All the members there were wearing smiles, and their cheerfulness appealed to me. At that moment,I thought, "This is the very place I want to be!"
Practicing qigong at Tai Ji Men has helped me better myslef. I have not only recovered my health physically and mentally, but also improved my family life. Because of the guidance of my Shifu, I have learned to reflect on myself. I used to harbor negative thoughts and would yell at my children and complain about my husband. I really had a bad temper. My younger daughter once lost her wallet on her elementary school graduation trip. Luckily, it was found and sent to a police station. In the wallet, there was a card. Apart from her name and phone number, she also wrote on the card her habit, her favorite food--ice cream, and her greatest fears--caterpillars and Mom! The police officer must have seen it,I guessed, for he told me not to scold my daughter. What great stress I had imposed on her! I think that if I had not joined Tai Ji Men, I would not have kept reflecting on and correcting myself, and,of course,I would not have discovered my own shortcomings and problems.
My Shifu often tells us to improve our tempers. He also teaches us the wisdom of life, such as "You must truly love yourself first and then you can truly love others," and "The Chinese character for closeness is to see each other's hard work." I used to complain a lot about my husband because I failed to see his hard work.I learned these things after I joined Tai Ji Men. Whenever I feel down, my Shifu's words of wisdom will occur to me, and then I can face everything with good thoughts. Now, when I cook, I cook with my heart. Besides, I also add love to the dishes I make. I even pay extra attention to the presentation of the dishes. The beautiful, tasty dishes with savory aromas always amaze my family members. Seeing my changes, my two daughters joined Tai Ji Men one after the other. In the past, my younger daughter would often complain to me about her school life and would wait to be served by the rest of the family members. After she joined Tai Ji Men, she modified her temper and became willing to do something for the family. One day, my older daughter said happily to me,"Mom,what a surprise! Sister toasted bread for me !" Seeing her younger sister's changes, she joined Tai Ji Men as well. Now, they are getting closer together.
These days, my husband has been wondering what has motivated us to change for the better. My answer is Tai Ji Men, the big Energy Family, which has turned my unhappy life into a cheerful one. Both my daughters are positively affected by my happiness. I deeply believe that happiness is the best gift for myself and for others.