Thank You Honey
Wen-Si Tsai 2013-09-30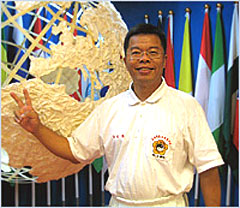 A couple who are my friends had a bad relationship. Recently, they argued so fiercely that they wanted to get divorced and they didn't listen to friends' advice, then, my wife and I visited them trying to make them up by sharing with them our experience.
What happened to my friends was like a mirror of my past, which reminds me of my once disastrous marriage. During that period of time, I overworked as much as I could and I intentionally hung around outside every day, hoping she was already asleep when I got home, so that we would not have a fight and we would not have to write divorce agreement every day.
I remember the time when I just entered Tai Ji Men, Shifu always reminded us to get rid of bad temper. At that time, I thought in spite of my a bit stiff body and hypertension, I really had a good temper and why did I have to change? On the contrary, I thought my wife was the person who should change because she was always picky about me and that led to our quarrels.
Last thing on my mind, my wife listened to Shifu's words and started trying to get rid of her bad temper. I saw her change but I doubted, "It is said that the leopard cannot change its spots. Could she really get rid of her terrible temper which has lasted for decades?" To my surprise, she was really no longer angry irrationally afterwards. Also, she began to see my efforts for the family and this had never happened before. Her change touched me and a deeply intimate feeling between us started spontaneously.
My wife abandoned her stubbornness, started to be caring and observe the merits on me; it turned out that I started to reflect on myself. I realized that, though I have given my contribution to do housework, but to be honest, very seldom. When I am in a good mood, I hang the clothes after laundry, do the dishes; I can barely number the times that I am committed to housework. My wife however, goes to work during the day, takes care of our child after work, and she does housework every single day. Her days must have been tough, but how come I take it for granted? Thus, I started to face my bad habits: After returning home, I no longer linger on the sofa, I give my best possibility to help out. Even though there aren't many things that I could help out, but my wife feels me, gradually, we fight less, when I am at home, I could rest better, and my blood pressure has gone lower. Nowadays, we often chat after our child goes to sleep, when I am home late because of overtime working, she even prepare me a plateful of fruit.
I am grateful to have Shifu's guidance and encouragements from brothers and sisters, everything I learned in Tai Ji Men, made my family in harmony, maintain great health, and share my gain to others, what a great joy! Turning from "quarrelsome lover" to a "kind wife", I appreciate my wife for joining me to manage my temper, and I want to say "Honey! Thank You!"